Coca-Cola says COO Kent to become CEO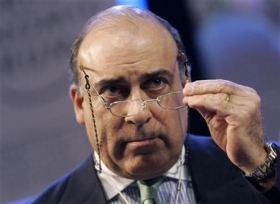 By Martinne Geller
NEW YORK (Reuters) - Coca-Cola Co <KO.N> said on Thursday Chief Operating Officer Muhtar Kent will succeed Neville Isdell as chief executive of the world's largest soft drink company on July 1, 2008.
Isdell, 64, who was brought out of retirement in 2004 to lead a turnaround at Coke, will remain chairman until the company's annual shareholder meeting in April 2009.
Kent, who will remain president of the Atlanta-based company, helped orchestrate the acquisition of vitamin-water maker Glaceau earlier this year, and is given credit for Coke's strong volume and double-digit earnings growth so far this year.
"We don't expect major strategic changes as Kent has been a major driver in the notable shift in the company's strategic direction," Citigroup analyst Bonnie Herzog said, citing the company's recent willingness to venture outside its own brands for growth with the acquisitions of Glaceau and Fuze.
Kent, 55, who was born in the United States but has dual citizenship with Turkey, has been the clear heir apparent for more than a year, according to John Sicher, editor and publisher of industry newsletter Beverage Digest.
"It makes perfect sense. Kent is very highly regarded throughout the Coke system and has virtually spent his life preparing for this job," Sicher said. "It's also a positive having Isdell stay on as chairman because it will make for a very good and smooth transition."
Coca-Cola, like PepsiCo Inc <PEP.N>, has suffered a domestic slowdown in sales of its traditional soft drinks as health-conscious consumers opt for bottled water or tea, which they view as healthier. Strength in emerging markets, such as Russia, India and China, has helped offset this weakness.
During a press conference Kent said his top priorities were to keep momentum in Coca-Cola's international business, to stabilize the North American business and return it to growth, and to boost operational productivity.
Another goal was growth and innovation, which he said would continue to come from inside, as well as outside, the company.
"Where there is no organic growth, for me, there is no oxygen," Kent said. "Acquisitions can never take the place of organic growth," he added, saying the company would do bolt-on acquisitions where they made sense.
INTERNATIONAL EXPERIENCE
Kent, who lived in Turkey and India during his childhood and went to university in England, called himself "a deep student of cultures and different parts of the world."
"I believe in today's environment in the world you have to really understand cultures very well in order to be successful as an international business," Kent said.
That philosophy is in keeping with the goal of Coca-Cola, whose reputation was once sullied by a race discrimination lawsuit, to increase ethnic and racial diversity among its board and corporate officers.
Kent joined Coca-Cola in 1978 and has held a variety of marketing and operational roles leading to his appointment as president of the East-Central European Division in 1989. He worked closely with Isdell in this role and supervised the relaunch of Coca-Cola throughout East-Central Europe.
He later became managing director of Coca-Cola Amatil-Europe, part of Australia-based Coca-Cola Amatil Ltd <CCL.AX> a regional bottler based in Sydney. But he left the bottler after a 1996 short-selling incident.
Kent's financial adviser sold short 100,000 shares of Amatil on Kent's behalf just hours before the company issued a profit warning in November 1996. Short-sellers typically borrow shares and sell them, betting the price will fall, so they will be able to buy back the shares to repay the lender at a lower price.
Australian securities regulators investigated the incident, declined criminal prosecution and struck a civil settlement with Kent, who relinquished the profit he made and paid a fine.
Kent rejoined Coke in May 2005 as president of the North Asia, Eurasia and Middle East Group. He was named president of Coca-Cola International in January 2006 and appointed president and chief operating officer in December 2006.
At that time, Isdell said he and the board were satisfied the short-selling incident was "the result of an honest mistake."
But Coke never publicized results from an internal review and one investor wondered on Thursday if now was a good time.
"Now that he's going to be CEO, shareholders are going to want to see the results of that in-house report," said James Berman, founder and president of JBGlobal LLC in New York, which owns Coca-Cola shares.
Isdell on Thursday said the company would not disclose the report and called the matter "ancient history."
Coke shares closed up 2 cents at $63.07 on the New York Stock Exchange.
(Additional reporting by Ed Tobin in New York, Brad Dorfman in Chicago and Karen Jacobs in Atlanta; editing by Maureen Bavdek and Leslie Gevirtz)