Rice urges Russia to maintain pressure on Iran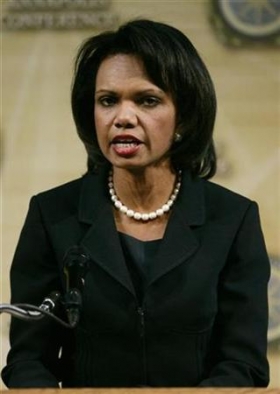 By Sue Pleming
BRUSSELS (Reuters) - U.S. Secretary of State Condoleezza Rice urged a skeptical Russia on Thursday to help maintain pressure on Iran, despite the release of a U.S. report which found Tehran halted its atomic weapons program in 2003.
Rice, in Brussels for a meeting of NATO ministers, plans to hold private talks on Friday with Russian Foreign Minister Sergei Lavrov, who has said any new sanctions plans against Iran must take the new intelligence report into account.
"I don't see that the NIE (National Intelligence Estimate) changes the course that we are on," said Rice, who along with Britain and France is pushing for a third U.N. Security Council resolution against Iran.
The U.S. National Intelligence Estimate, released on Monday, appears to contradict the Bush administration's past assertions that Iran is intent on building a bomb and makes it more difficult for Rice to campaign for greater isolation of Tehran.
In her discussions with Lavrov, Rice said she would argue that the report's suggestion that Iran abandoned its nuclear arms work in 2003 showed that it responded to pressure, and this was a reason to maintain the isolation.
"The Iranians didn't just wake up one day and say 'we'll stop our program.' It was really international pressure and fear of international scrutiny that led them to halt the program," she told reporters traveling with her to Brussels.
"Indeed international pressure and international scrutiny can and might lead them to make healthy choices," she said.
"TACTICAL DIFFERENCE"
Rice had meetings scheduled on Thursday with the Italian, Belgian and British foreign ministers as well as with the European Union's foreign policy chief Javier Solana and NATO's Secretary General Jan de Hoop Scheffer.
Her toughest sell will be on Friday in meetings with Lavrov and then with the German foreign minister, whose government has balked in the past at increasing pressure on Iran.
"As I have said, there has been a tactical difference all along with Russia and China about when to move forward (on Iran sanctions)," said Rice.
Two rounds of sanctions have already been imposed on Iran for failing to comply with a U.N. demand that it halt uranium enrichment, a process the West believes Tehran is trying to master in order to build atomic bombs.
Iran insists it wants only fuel for power plants.
Rice said the major powers should start to look at ways to make Iran account for what it was doing before 2003 in its nuclear program.
Russia, a permanent member of the U.N. Security Council with veto power, has said that Russian intelligence has no evidence Iran had an atomic arms program before 2003.
Rice countered that the Russians had always been pressing the U.N.'s atomic watchdog agency to look at past activities of the Iranians and the latest U.S. intelligence report provided an incentive to do this.