Noted forecasters see 7 hurricanes next year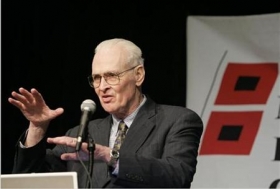 By Jim Loney
MIAMI (Reuters) - The noted Colorado State University hurricane research team predicted on Friday that 13 tropical storms will develop in the 2008 Atlantic hurricane season, of which seven would strengthen into hurricanes.
The team formed by forecasting pioneer William Gray, whose long-range forecasts have been wrong for the past three years, said that would make 2008 a "somewhat above-average" hurricane season. The long-term average is for 10 tropical storms and six hurricanes during the six-month season starting June 1.
Gray's team, now led by his protege Philip Klotzbach, said three of the hurricanes next year would be the most dangerous Category 3 or above storms, with winds of at least 111 miles per hour (178 km per hour).
The Colorado State University hurricane experts, whose forecasts are closely followed by energy and commodity markets as well as disaster relief professionals, had predicted there would be 17 tropical storms in the 2007 season that ended on November 30.
In the end, the season saw 14 Atlantic tropical storms, of which six strengthened into hurricanes.
Two of the hurricanes, Dean and Felix, reached the maximum Category 5 strength on the five-step Saffir-Simpson scale of hurricane intensity. Dean killed at least 27 people as it raced through the Caribbean and hit Mexico's Yucatan peninsula, while Felix killed more than 100 in Nicaragua.
It was the second year in a row the United States was largely spared after the devastating years of 2004, when four hurricanes hit Florida, and 2005, when Katrina swamped New Orleans, killing 1,500 people and causing $80 billion in damage.
STILL ACTIVE
"Despite fairly inactive 2006 and 2007 hurricane seasons, we believe that the Atlantic basin is still in an active hurricane cycle," Gray said in a statement.
"This active cycle is expected to continue at least for another decade or two," he said. "After that, we're likely to enter a quieter Atlantic major hurricane period like we experienced during the quarter-century periods of 1970-1994 and 1901-1925."
Gray is at odds with some hurricane researchers who believe that global warming could be contributing to intensified hurricane activity.
The CSU team said it expected "fairly warm" tropical Atlantic sea surface temperatures in 2008. Hurricanes draw their strength from warm water.
They also expected weak or neutral La Nina conditions -- unusually cold ocean temperatures in the eastern equatorial Pacific which are part of the recipe for active hurricane seasons in the Atlantic.
La Nina's opposite, the warm-water El Nino phenomenon, tends to dampen Atlantic hurricanes by increasing wind shear, a difference in wind speeds at different altitudes that can tear apart nascent hurricanes.
The CSU team predicted a 60 percent chance that at least one hurricane of Category 3 or higher would hit the United States in 2008, above the long-term average of 58 percent.
The U.S. East Coast has a 37 percent probability of seeing a major hurricane and the Gulf Coast a 36 percent probability, it said.
The Caribbean basin also has an above-average chance of seeing a major hurricane next year, CSU added.
(Additional reporting by Michael Christie; Editing by Eric Beech)