Barry Bonds pleads not guilty to steroid perjury charges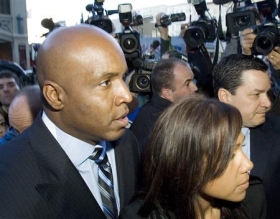 By Adam Tanner
SAN FRANCISCO (Reuters) - Barry Bonds, Major League Baseball's all-time home-run king, pleaded not guilty on Friday to charges that he lied to a federal grand jury in 2003 when he denied use of performance-enhancing drugs.
Dressed in a dark blue suit for his first court appearance since being indicted, the controversial 43-year-old slugger had his lawyer tell a judge in U.S. District Court in San Francisco he was innocent of four counts of perjury and one of obstruction.
The court set bail at $500,000 and a February 7 date for the next hearing in the case. He had reported to authorities for processing on Thursday, his lawyers said.
According to the federal indictment, Bonds lied when he told a grand jury in 2003 that he never knowingly used performance-enhancing drugs. That investigation led to the imprisonment of Bonds' personal trainer as well the head of BALCO, the laboratory south of San Francisco where Bonds had occasionally undergone blood and urine testing.
Bonds smiled as he arrived and was surrounded by an expanded group of prominent San Francisco attorneys that one top court official called a "dream team," with each earning about $400 an hour. In response to questions from the judge, the most famous player of his generation identified himself and his age as "Barry Bonds, 43" and in court only said "Yes" and "Yes, I do."
Ceiling lights in the lofty courtroom reflected off Bonds' shaved head as he stood before the judge.
The BALCO scandal disgraced top athletes in track and field, baseball and football after evidence showed that doping fueled their athletic achievements.
Track-and-field champion Marion Jones recently admitted taking banned drugs and was disqualified from all competition since Sept 1. 2000, including the Sydney Olympics where she won five medals. Tim Montgomery, once dubbed the world's fastest man, was stripped of his 100-meter record and barred from competition in 2005.
Bonds, never the most popular of athletes because of an abrasive personality, has long denied doping. Yet many fans have suspected that steroids powered Bonds when he set the single-season home-run record in 2001 and kept him going strong at an age when most of his peers and the greatest players in history lost strength and endurance.
Bonds passed Hank Aaron's career home run record -- perhaps the greatest mark in American sport -- in August and finished the season seven homers ahead of Aaron at 762. Yet his long-time team, the San Francisco Giants, chose not to offer him a contract for the 2008 season and his future in the game remains in doubt.
DIFFICULT TO PROVE
Perjury, which is knowingly lying in a judicial proceeding while under oath, is often difficult to prove and is not often prosecuted, legal experts say. One of Bonds' lawyers said they may file a motion to dismiss the charges.
In one precedent from the world of sports, Chris Webber, a basketball player with the Detroit Pistons, was charged with perjury and in 2003 pleaded guilty to criminal contempt of court. He avoided time in jail in the scandal over payments to players while he was at the University of Michigan.
The government has gathered information from Bonds' friends, associates and one lover, although his personal trainer spent many months in prison for refusing to testify.
Kimberly Bell, a Bonds' lover who testified, recently told Reuters he once admitted using steroids. Another potential prosecution witness is a former close friend and business partner who feuded with Bonds.
The indictment also says officials obtained evidence of positive tests for steroids and other performance-enhancing substances.
Supporters of the slugger -- who still hopes to sign with a new team for next season -- say federal agents have proved overzealous in prosecuting the case.
As Bonds left the federal courthouse, a few fans expressed their support. "We support you, we love you, Barry," one man said. Bonds, with his wife by his side, also stopped to chat for a few minutes with an elderly woman who identified herself as a relative and looked over some old family photos she brought.
(Additional reporting by Philipp Gollner; editing by Philip Barbara)