Complacency could jeopardize Africa health gains: UN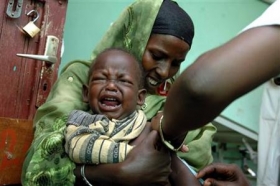 By Daniel Flynn
LIBREVILLE (Reuters) - Progress by African countries in reducing child deaths from infectious diseases such as measles could be lost unless governments improve routine immunization, a U.N. official said on Friday.
Vaccination campaigns funded by foreign donors have helped reduce deaths from measles in Africa by 91 percent since 2000 to 36,000 last year, according to U.N. figures. Most of the victims are children.
Andy Gay, head of children's health at the United Nations Foundation (UNF), said the risk was now that some governments would assume the problem was solved and neglect vaccinations for diseases such as polio, meningitis, measles and tetanus.
"Vaccination programs have a relatively direct impact on disease, but the problem with this success is that people tend to think the problem has gone away," she told Reuters during a measles immunization program in Gabon funded by the UNF.
African governments should capitalize on the swift progress made in fighting measles and aim now to eradicate the disease from the continent, Gay said.
Even when measles does not kill, it can leave children blind, brain damaged, or vulnerable to diseases such as pneumonia, the biggest cause of child mortality worldwide.
"This idea that this whole region could achieve something together is really important and countries need to feel that they are part of it, and that takes political leadership," Gay said.
Nigeria, Ethiopia and Democratic Republic of Congo, despite their large populations, had made progress on getting their citizens used to receiving vaccinations, she sa