At risk in Arctic, "polar bears" thrive in Bali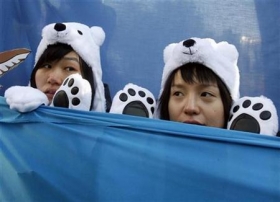 By Alister Doyle, Environment Correspondent
NUSA DUA, Indonesia (Reuters) - Under threat from a thaw of Arctic sea ice, polar bears seem to be having a population explosion at U.N. climate talks on the tropical island of Bali.
Environmental activists have repeatedly paraded in polar bear suits at December 3-14 U.N. talks to warn of climate threats to wildlife. Yet the U.N. climate panel says 20 to 30 percent of all species may face more risks of extinction from warming.
So should activists focus more on other threatened species closer at hand in Asia, such as orang-utans or tigers?
"I don't think it shows a lack of imagination," Yvo de Boer, head of the U.N. Climate Change Secretariat, told Reuters of the focus on bears. "The polar bear has become a symbol of this issue."
"And if you wore a tiger mask it might seem that you were advertising an oil company," he added.
The 190-nation meeting is looking for ways to rein in climate change, blamed on emissions of greenhouse gases from burning fossil fuels in power plants and factories. "Put a tiger in your tank" was a slogan used by Exxon.
The polar bear has come to dominate in Bali -- more than at past U.N. meetings, delegates say -- because the Arctic ice on which it hunts seals shrank in September to the smallest since satellite records began in the 1970s.
"Global warming is happening twice as fast in the Arctic as elsewhere," said Cindy Baxter of Greenpeace, which has also had an activist bear prowling the conference centre in a beach resort. "But maybe penguins should get a look-in too."
And threats to other wildlife from climate change elsewhere are harder to quantify. And rare plants, frogs or toads that may be under even more at risk do not have the charisma of a polar bear.
"Polar bears are the most visible icon of global warming," said Barry Coates of the New Zealand branch of Oxfam, which staged a protest with eight activists dressed as polar bears.
About 20-25,000 polar bears live around the Arctic. Numbers are probably up from the 1970s in some areas because of tighter controls on hunting. But warming is a looming threat.
The U.S. Geological Survey said in September that two-thirds of the world's polar bears could be gone by mid-century if predictions of melting sea ice hold true.
Activists admit that part of the reason for all the polar bears in Bali is that they have many bear suits from past demonstrations. Those suits turn into saunas in Bali's heat and are unbearable beyond about 20 minutes.