Plan to save Anne Frank tree with steel frame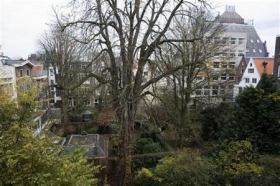 AMSTERDAM (Reuters) - Conservationists want to build a steel frame to support the tree that Jewish teenager Anne Frank took comfort from during her time in hiding, after a court reprieved the diseased chestnut last month.
Edwin Koot of the Tree Foundation told Reuters on Tuesday architects had designed an eight-meter high frame that would cost about 50,000 euros ($73,000). The organization will present its full plans to save the tree at a news conference next week.
Last month, the Tree Foundation won a court injunction stopping the city council from felling the 150-year-old tree and ordering it to look into ways to save the 27-tonne chestnut, which some experts say is so diseased it could topple over.
The young diarist drew comfort from the tree as one of the only signs of nature visible from her stuffy hiding place, mentioning it several times in her diary before being betrayed and arrested by the Nazis in 1944. She died in a concentration camp in 1945, shortly before the end of World War II.
The Anne Frank museum is worried the tree poses a threat to the secret annex and the 1 million people who visit it every year. They would prefer the fungus-infested chestnut is cut down and replaced with a young sapling.
(Reporting by Emma Thomasson, Editing by Matthew Jones)