Fire kills 21 in east China apartment block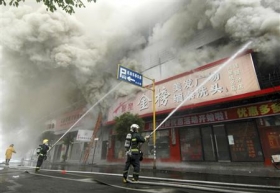 BEIJING (Reuters) - A fire in a ground-floor flower shop in east China spread into a dance hall and an apartment block above on Wednesday, killing 21 people, media said.
Most of the victims were elderly people doing their morning exercise.
Hundreds of residents were trapped when the fire broke out in the 28-storey building in downtown Wenzhou in the coastal province of Zhejiang, the China News Service said on its Web site (www.chinanews.com.cn).
Two were killed in the flower shop and 19 died of carbon monoxide poisoning in the dance hall on the second floor, the semi-official news agency said, citing a local government official.
Two people were seriously injured.
"Wenzhou residents have the habit of dancing in the morning and many old people do it as exercise," the China News Service said.
It said more than 200 firefighters took three hours to put out the fire, during which they rescued 105 residents, many by crane, and evacuated 98.
"I was rescued by firefighters after being trapped for two hours on the sixth floor. There was a lot of smoke inside," a resident surnamed Yang told the news agency.
The cause of the fire was under investigation, it said.
(Reporting by Guo Shipeng; Editing by Nick Macfie and Jerry Norton)