Climate change "not luxury" for Africa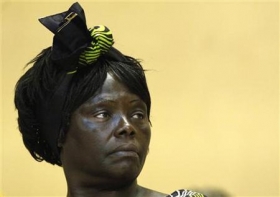 NAIROBI (Reuters) - Industrialized countries have a moral responsibility to help Africa mitigate the effects of climate change, Kenya's Nobel laureate Wangari Maathai said on Friday.
"For the global South, especially Africa, environmental issues are not a luxury," the environmental activist said in an article in Kenya's Business Daily newspaper on the final day of climate change talks in Bali.
"Arresting the world's warming and protecting and restoring our natural systems are issues of life and death for much of the world's population."
The first African woman and 'green' activist to win the Nobel Peace Prize in 2004, Maathai said the industrialized world needed to work with southern hemisphere nations to stop the devastation linked to global warming.
Maathai said Africa's greenhouse gas emissions could not be compared with those of industrialized nations, yet it was Africa that would be crippled by global warming.
"Will we watch as catastrophic disruption to Earth's environment and her people occurs on an unimaginable scale? Or will we change course and work together to mitigate the effects of global warming?" she said in a challenge to those in Bali.
"As major polluters, industrialized countries have a moral responsibility to assist Africa and the rest of the developing economies by sharing technology to reduce our vulnerability and increase our capacity to adapt to global warming."
The 190-nation talks in Bali seek to launch two years of negotiations for a global agreement to fight climate change, to succeed the Kyoto Protocol after its first phase ends in 2012.
Maathai was famed for leading the struggle to save Kenya's forests from illegal land grabbing. She now leads a global campaign to plant a billion trees which will soak up 250 million tons of carbon dioxide warming the atmosphere.
(Reporting by Nicolo Gnecchi; editing by Robert Woodward)