Congress overrides veto on new farm law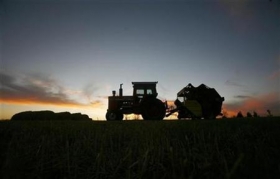 By Charles Abbott
WASHINGTON (Reuters) - Congress completed an override of President George W. Bush's veto of the $289 billion farm bill on Thursday, enacting it as law except for its trade section, which was deleted by a clerical error.
The new law expands public feeding programs for poor Americans, aiding an estimated 10 million people, and encourages land stewardship and biofuels development.
It was the second time Congress has overturned a veto by Bush. The president vetoed the farm bill on Wednesday on grounds it would subsidize multimillionaire farmers at a time when Americans face higher food prices.
The Senate voted 82-13 to override a day after the House vote of 316-108. "Fourteen of the 15 titles of this bill are now the law of the land," said Agriculture Committee chairman Tom Harkin, Iowa Democrat, after the Senate vote.
Democratic leaders said the omitted section, involving trade and food assistance programs, would be handled separately. The 35-page section was deleted accidentally from the formal copy of the farm bill that was given to the White House, vetoed by Bush and overridden by Congress.
"There are a number of precedents that what we did yesterday was valid," said House Majority Leader Steny Hoyer, who assured representatives that 14 of the 15 sections of the original bill would be law when the override succeeded.
House Republicans accused Democrats of cutting corners in their rush to complete action on the bill before Memorial Day. "The fact is, that's not the bill we voted on," said David Drier of California.
In particular, Hoyer cited an 1892 Supreme Court decision as proof an accidental change in text did not prevent a bill from becoming law. Senate Majority Leader Harry Reid also mentioned the 1892 decision when saying the Senate would vote on the override.
As a safeguard, House Democratic leaders called a vote on a new bill containing all sections of the farm bill. It passed, 306-110, with strong support by Republicans.
A short-term extension of some Agriculture Department programs also may be needed, congressional staff workers said, while the trade section is resolved.
Congress overrode Bush's veto of a water project bill last November. Bush's veto was the first for farm legislation since 1995 when President (Bill) Clinton vetoed a budget-cut bill that included the "Freedom to Farm" plan, which later became law on its own.
(Reporting by Charles Abbott; editing by Jim Marshall)