Is Your Yoga Mat Lacking Personality? Toxic?
Lakewood, NJ - The ancient practice of yoga has moved one styleistic step forward with a personalized non-toxic yoga mat. The new product is the brainchild of Gwen Bandes an eco-committed entrepreneur. The company offers all yoga lovers the option to embroider their name, friend's name, or even their pet's name on to an eco friendly yoga mat. Perhaps most importantly the mat is toxin free. It does not contain PVC, lead, or toluene. It's also biodegradable and recyclable.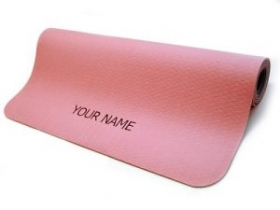 Founded by Gwen Bandes, this Woman Entrepreneur set out to offer more options when choosing a yoga mat. "I wanted to offer a yoga mat that was both unique, and friendly to the environment. There are many companies offering yoga mats, but none allowed any personal expression," explains Gwen Bandes.
Before any mat was even produced, Gwen Bandes made sure that each would be eco friendly. "There are many companies selling PVC mats that ruin our environment. It's time to make a difference." Every yoga mat sold by JustMyMat is produced from TPE also known as Thermo Plastic Estomer. TPE is non-toxic biodegradable, recyclable, and easy to clean.
JustMyMat also understands that yoga does not just take place in one location. They offer studios, hotels, and other organizations special pricing if they order custom yoga mats in bulk. So now from studios to Fortune 500 companies, love of yoga can be shared without losing brand identity.
The newest addition to the company is for those who love their pets. This year Bandes was the first to introduce a yoga mat designed specifically for 'man's best friend.' And at no additional charges these yoga pet mats are prepared with a paw print next to the pet's name.
JustMyMat has also recently joined 1% For The Planet organization in which they donate 1% of sales to environmental organizations worldwide.
Owner Gwen Bandes (info@justmymat.com.) founded JustMyMat in 2007 to provide consumers with a choice to personalize eco-friendly (TPE) yoga mats. The website offers a range of colors and all mats can be personalized with a variety of fonts.