Japan to cut drug prices by 5.2 pct in 2008: source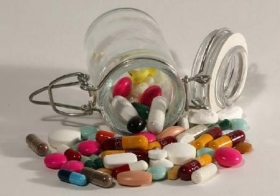 By Ritsuko Shimizu and Edwina Gibbs
TOKYO (Reuters) - Japan will order drug prices to be cut by an average 5.2 percent in its latest review, a government source said on Tuesday, along with more steps to promote generic medicines in a double blow for makers of branded drugs.
Fast-ageing Japan, which has national health insurance, is eager to trim ballooning medical costs now estimated at around 33 trillion yen ($290 billion) per year, with drugs alone accounting for some 7 trillion yen.
Analysts had forecast an average drug price cut of 5 to 6 percent. The cut, to take effect from the start of the financial year on April 1, is part of a review of medical costs conducted every two years.
A 5.2 percent cut would be less than the 6.7 percent reduction ordered in 2006, although analysts say stronger measures to boost cheaper generic drugs means the toll on makers of brand-name drugs could be just as great.
"If generics penetrate the market as much as the government hopes -- although there's no way to know if they will -- then the impact would be roughly the same as last time," said Hiroshi Tanaka, a drugs sector analyst at Mizuho Securities.
In 2004, the average cut was 4.2 percent and in 2002 it was 6.3 percent.
Government-mandated price cuts have offset rises in volume and industry executives expect the world's second-largest drug market to remain flat, a situation that has pressured domestic makers to consolidate or build up their operations overseas.
The outlook is brighter for Western firms, however, as many of their drugs have yet to be launched in Japan and who have been encouraged by government moves to speed up approvals and the nation's low usage of generic alternatives.
The government may disclose an official figure in late December, when the state budget for the coming year is compiled.
The actual impact on each individual drug maker, however, will not become clear until price cuts for specific medicines are announced, which will likely be in March.
GRADUAL GENERIC GROWTH
Japan has a very low rate of generic drug use, around 17 percent of volume compared with 63 percent in the United States, and the government is set to change prescription forms that will make generic drugs the default option over brand-name counterparts.
The switch is seen boosting shipments by makers such as Sawai Pharmaceutical Co Ltd <4555.T>, Japan's biggest generic drug maker, and second-ranked Towa Pharmaceutical Co Ltd
<4553.T>.
In contrast, makers with a high sales weight of so-called "long-listed" drugs -- brand-name drugs that have gone off patent -- such as Ono Pharmaceutical Co <4528.OS> are seen as the most vulnerable to generic incursions.
But Towa and analysts caution that generic growth will likely be moderate and much will depend on incentives for pharmacies, which currently have little reason to stock the cheaper drugs.
Details of incentives that could be offered are yet to be debated by the Health Ministry's main committee.
Of the 5.2 percent cut, 4.5 percentage points is based on the difference between reimbursement prices and actual prices at which wholesalers sell to medical institutions.
Some classes of drugs will however be subject to bigger cuts under rules that call for price cuts of drugs that have sold far better than first expected.
In particular, angiotensin II receptor blocker (ARB) drugs for high blood pressure are likely to be hit, hurting makers such as Takeda Pharmaceutical Co Ltd <4502.T>, whose drug Blopress is its biggest domestic seller with 129 billion yen in annual sales.
Astellas Pharma Inc <4503.T> markets the ARB Micardis while Daiichi Sankyo Co Ltd <4568.T> sells Olmetec, also called Benicar.
Analysts say that while government recommendations will call for maximum price cuts affecting a certain class of drugs to be reduced to around 10 percent from 15 percent, more classes of drugs may be affected.
Other drugs subject to bigger price cuts may include the most popular class of depression drugs, called selective serotonin reuptake inhibitors, such as Paxil made by GlaxoSmithKline <GSK.L>.
Cancer treatments such as Roche's <ROG.VX> Herceptin marketed by Chugai Pharmaceutical Co <4519.T> have also been floated as possible candidates.
(Editing by Michael Watson)