Magnitude 7.3 quake jolts Aleutian Islands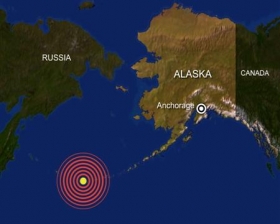 TOKYO (Reuters) - An earthquake of magnitude 7.3 jolted Alaska's Aleutian Islands in the northern Pacific on Wednesday, Japan's weather agency said, triggering a tsunami advisory for Hawaii.
There were no immediate reports of damage or casualties.
The Pacific Tsunami Warning Center said it had issued a tsunami advisory for the state of Hawaii.
The quake, with its focus about 25 miles below the seabed, occurred at 0430 EST, the Japan Meteorological Agency said.
The U.S. Geological Survey, which put the magnitude at 7.2, said it was 1,200 miles west-southwest of Anchorage.
(Reporting by Teruaki Ueno)