Syria spurned atom smuggler approach in 2001: Assad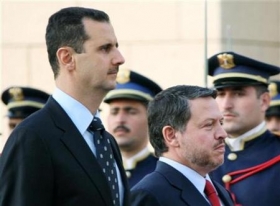 VIENNA (Reuters) - Syria rebuffed a possible approach in 2001 from Pakistani-led traffickers in nuclear arms technology, President Bashar al-Assad said.
In an interview with Austrian daily Die Presse, Assad said an unnamed person delivered to Syria a letter purportedly from A.Q. Khan, the now-disgraced father of Pakistan's atom bomb who supplied Iran, Libya and North Korea with nuclear parts and know-how.
"At the beginning of 2001 someone brought us a letter from a certain Khan. We did not know if the letter was genuine or a forgery by Israel to lure us into a trap," Assad was quoted by Die Presse on Wednesday as saying.
"In any case, we rejected (the approach). We were not interested in having nuclear weapons or a nuclear reactor. We never met Khan."
In September, Israel bombed a Syrian site that Western analysts said might have been a covert nuclear reactor under construction. Damascus said it was a minor military building.
Western analysts who examined satellite imagery of the Syrian site targeted by Israeli warplanes on September 6 said it may have contained a nuclear reactor under construction similar to North Korean design. They found it suspicious that the structure appeared to have been razed by Syria after the air attack.
"This was a military facility under construction. Since it was a military facility, I can't give details. But that does not mean that this was a nuclear facility...," Assad said.
Syria has said it is hiding nothing from International Atomic Energy Agency (IAEA) inspectors.
The IAEA has also studied before-and-after commercial aerial photos of the site and asked Syria for explanations. Diplomats close to the IAEA said Syria has not replied and the pictures alone were unlikely to yield conclusions.
(Reporting by Mark Heinrich; editing by Robert Woodward)