UNEP deploys team of experts to help with oil spill in Republic of Korea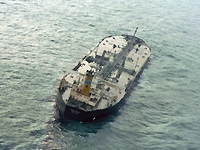 Nairobi/Daejon, 18 December 2007 - An emergency response plan has been activated by the United Nations Environment Programme to help the Republic of Korea respond to the worst oil spill in its history.
On 7 December, the oil tanker Hebei Spirit collided with a barge 100km south of Seoul, releasing 10,500 metric tonnes of crude oil into the sea. The oil slick is affecting approximately 160 km of coastline near an important habitat for birds.
As well as threatening to enter Cheonsu Bay, which is home for about 400,000 migratory birds, the spill has hit key fishing grounds and is expected to damage the livelihoods of up to 27,000 aquaculture workers in the area. The emergency has triggered a major clean-up operation involving 200,000 people -mostly volunteers -as well as 327 vessels, 17 airplanes and 13 helicopters.
In response to the disaster, an oil spill contingency plan was launched by UNEP's Northwest Pacific Action Plan (NOWPAP) upon the request of the government of the Republic of Korea. As part of this, NOWPAP member countries China and Japan have sent around 60 tonnes of sorbents to RoK, and Japan has sent in a team of experts upon the Korean government's request.
A joint UN-EU rapid environmental assessment team was also sent on site to help the authorities to mitigate the effects of the spill. Additional support has come from the United States coastguard, which has sent a team to give expert advice, and a private company in Singapore which is providing aircraft support.
Notes to editors
The Northwest Pacific Action Plan (NOWPAP) comes under UNEP's Regional Seas Programme. NOWPAP's Regional Oil Spill Contingency Plan was developed in full cooperation between UNEP and IMO (International Maritime Organization). It was adopted in 2004 by China, Japan, the Republic of Korea and the Russian Federation to deal with large oil spills emergencies.
According to this contingency plan, member countries inform each other of oil spill accidents and provide assistance to the country in need. NOWPAP's Regional Activity Centre, MERRAC, located in Daejon (Korea), is serving as the 'nerve centre' for the activation and implementation of the regional contingency plan. It is also the operational link between NOWPAP countries and the Korean Government, which is responsible for the recovery of the spilled oil and the cleanup operations.
The joint EU-UN team sent to RoK is made up of experts from the European Commission's Monitoring and Information Centre as well as from the Joint UNEP/OCHA Environment Unit (OCHA is the UN's Office for the Coordination of Humanitarian Affairs).
For More Information Please Contact
Nick Nuttall, UNEP Spokesperson, on Tel: +254 20 7623084, Mobile: +254 733 632755, or: +41 795965737, or e-mail: nick.nuttall@unep.org
Anne-France White, Associate Information Officer, at tel: +254 20 762 3088, or e-mail: anne-france.white@unep.org