Bush says won't discuss CIA tapes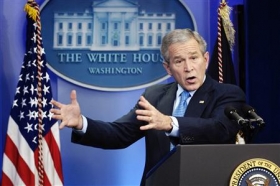 By Randall Mikkelsen
WASHINGTON (Reuters) - President George W. Bush insisted on Thursday he did not learn until recently that the CIA destroyed videotapes of harsh interrogations, and said he would not speak any more in public about the issue currently under investigation by the administration and Congress.
At a White House news conference, Bush expressed confidence in congressional investigations, which his Justice Department had balked at last week, saying he thought all the various inquiries underway would eventually get to the truth.
"Until these inquiries are complete, until the oversights' finished, I will be rendering no opinion from the podium," Bush said. Defending his administration's aggressive pursuit of terrorism suspects, the president said his critics were ignoring reality.
The congressional investigation moved into a new phase as the House of Representatives Intelligence committee began reviewing CIA documents it had requested and issued a subpoena for the former head of the CIA's clandestine branch, Jose Rodriguez, who is reported to have ordered the tapes' destruction.
"We have been told that Mr. Rodriguez would like to tell his story but his counsel has advised us that a subpoena would be necessary. We therefore have issued the subpoena for Mr. Rodriguez," said committee chairman Silvestre Reyes, a Texas Democrat.
Reyes also said the panel was in talks with CIA officials regarding its request for testimony on January 16 from John Rizzo, the agency's top lawyer.
Last week, the Justice Department warned the committee's probe could undermine its own joint investigation with the
CIA.
WHITE HOUSE OFFICIALS KNEW OF TAPES
The CIA earlier this month disclosed that it had destroyed in 2005 hundreds of hours of tapes from the interrogations of two al Qaeda suspects, prompting an outcry from Democrats, human rights activists and some legal experts.
The interrogations, which took place in 2002, were believed to have included a form of simulated drowning known as waterboarding, condemned internationally as torture.
A federal judge is to hold a hearing on Friday into whether the CIA violated a court order by destroying the tapes.
Bush has said he did not recall being told of the tapes until CIA Director Gen. Michael Hayden briefed him this month. Asked at the news conference why he could not make a more definitive statement, he said, "It sounds pretty clear to me when I say the first recollection is when Mike came and briefed me. That's pretty clear."
The New York Times reported this week that senior White House officials knew the tapes existed and took part in discussions on whether they should be destroyed.
"I am confident that the preliminary inquiry conducted by the (administration) coupled with oversight provided by the Congress will end up enabling us all to find out what exactly happened," Bush said.
However, the Justice Department declined to send a representative to a separate House committee hearing on the issue on Thursday, drawing a denunciation from the committee's chairman.
A department official said the decision was in keeping with a policy it had reiterated to Congress last week of not sending Justice Department officials to Congress to testify on pending investigations, and of avoiding political influence on law enforcement matters.
(additional reporting by Thomas Ferraro)