City of Pasadena Greenlights The Pasadena EcoHouse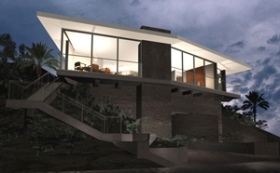 PASADENA, Calif. - The Pasadena EcoHouse is a step closer to reality today, after the City of Pasadena approved the homeowners' hillside building permit at last night's meeting.
When completed, The Pasadena EcoHouse will be the first single-family, structural concrete insulated panel (SCIP) home in the nation to earn the coveted Platinum certification by the U.S. Green Building Council's Leadership in Energy and Environmental Design (LEED) for Homes Green Building Rating System(TM), as well as the first LEED Platinum home in Pasadena. To earn the Platinum rating, The Pasadena EcoHouse will score points in several categories, including design, location, site impact, water and energy efficiency, indoor air quality, and green building awareness and education.
Designed by Robert Mechielsen's Studio RMA (http://www.studio-rma.com/), a full-service sustainable design studio, The Pasadena EcoHouse will be an architecturally and environmentally significant home for the homeowners and the community -- and is also a ready-for-television project.
"This showcase venture will demonstrate the feasibility of eco-friendly new home construction, one of today's most interesting economic, philosophic, social and political topics," stated Mechielsen. "The Pasadena EcoHouse is destined to be a landmark project. The opportunity to witness its creation will offer television viewers a full spectrum of excitement, drama and challenge - and will ultimately conclude with the successful completion of a beautiful and conscientious place to live."
At 1,975 square feet, The Pasadena EcoHouse will be built into a rocky hillside in the San Rafael Hills. A wall of sliding windows will offer panoramic views of the San Gabriel Mountains and Old Pasadena and give the cantilevered roof the appearance of floating atop the home. Mechielsen's plan also incorporates passive and active solar components, energy-efficient systems and appliances, minimal neighborhood impact and respect for the historic value of the community. The design can easily be duplicated on almost any buildable lot.
The Pasadena EcoHouse will feature top-of-the-line green building and design products, including a grid-tied solar electric system, a solar hot water system, recycled glass countertops, a ductless high-efficiency heating and cooling system, permeable hardscape, a rain and greywater catchment system and many more.
Headed up by Ken Dennis Productions, The Pasadena EcoHouse television project will highlight the manufacture and installation of the home's components and include interviews with all parties involved with the home, as well as cameo appearances by eco-aware celebrities and political figures.
"The Pasadena EcoHouse represents our dream of creating an environmentally sound home, and within our strict budget," said the homeowners. "We are ready to break ground, and we look forward to sharing our green building adventure with the world."
To learn more and view an artist's rendering of the planned house, visit http://www.thepasadenaecohouse.com/.