Circuit City posts wider quarterly loss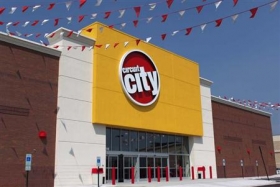 ATLANTA (Reuters) - Consumer electronics retailer Circuit City Stores Inc <CC.N> reported a wider third-quarter loss on Friday as sales fell and store changes disrupted business.
The loss came to $207.3 million, or $1.26 a share, for the quarter ended November 30, compared with a loss of $20.4 million, or 12 cents a share, a year earlier.
Earlier this week, rival Best Buy Co <BBY.N> reported a 52 percent jump in quarterly profit and raised its full-year forecast.
(Reporting by Karen Jacobs; editing by)