Apple and Fox planning movie rental deal: reports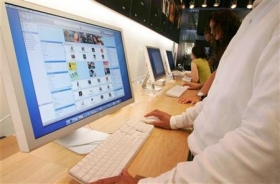 NEW YORK (Reuters) - Apple Inc <AAPL.O> and News Corp.'s <NWSa.N> Twentieth Century Fox are set to announce a deal that will allow consumers to rent movies through Apple's digital iTunes Store, media reports said on Thursday.
The agreement will allow rentals of Fox's latest DVD releases by downloading a copy from the online iTunes store for a limited time, the Financial Times said, quoting a source. The Wall Street Journal also reported the deal in its online edition.
Representatives from both companies were not immediately available for comment.
Video sales have lagged behind the growth in popularity of music downloads on iTunes. Media companies have wanted more flexibility from Apple in pricing policies.
(Reporting by Ritsuko Ando and Emily Chasan; Editing by Richard Hubbard)