Buffett starts up bond insurer to rival MBIA, Ambac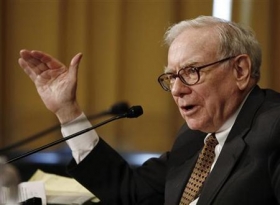 By Jonathan Stempel
NEW YORK (Reuters) - Warren Buffett's Berkshire Hathaway Inc <BRKa.N> <BRKb.N> is starting a bond insurer that would help state and local governments lower their borrowing costs, and is likely to lure business from established rivals struggling with credit market turmoil.
The new insurer, Berkshire Hathaway Assurance Corp, received a license to operate from New York state's insurance department on Friday, department spokesman David Neustadt said.
Buffett's entry puts pressure on the largest bond insurers, MBIA Inc <MBI.N> and Ambac Financial Group Inc <ABK.N>, whose shares sank a respective 15.9 percent and 13.8 percent after Buffett revealed his plans. MBIA shares touched a 13-year low.
Credit rating agencies are reviewing their ratings on concern they won't be able to cover losses on bonds they guarantee. Berkshire has "triple-A" ratings, and expects the new unit to earn the same rating. It plans to expand the unit into California, Florida, Illinois, Texas and Puerto Rico.
"Berkshire provides the municipal finance industry with a lifeline," said Sean Egan, head of the ratings desk at Egan-Jones Ratings Co in Philadelphia. "The industry will be able to turn to a truly triple-A credit. Many investors are likely to demand that bonds are backed by Berkshire."
MBIA and Ambac did not return requests for comment. The Wall Street Journal earlier reported the creation of the new Berkshire unit.
Issuers welcomed Buffett's foray into the bond insurance industry, whose members guarantee about $2.5 trillion of debt.
"The more the merrier," said David Bryant, treasurer at the Chicago Board of Education. "The more price competition and credit quality, the better for us."
MBIA shares closed $3.53 lower at $18.74, after earlier falling to $18.43, their lowest since December 1994. Ambac shares fell $4.02 to $25.12. The shares are down a respective 74 percent and 72 percent this year. Berkshire's Class A shares rose $3,300 to $141,100.
Separately, Omaha, Nebraska-based Berkshire agreed a deal to buy the NRG NV reinsurance unit of ING Groep NV <ING.AS> <ING.N> for about 300 million euros ($442 million). The Dutch bank expects to take a 100 million-euro ($147 million) loss from the sale, set to close in the first half of 2008.
RIVALS FACE PRESSURE
Municipal issuers finance such things as hospitals, road construction, schools, sewer systems and sports facilities.
They often seek bond insurance to reduce the perceived risk of owning their debt. That can attract more investors, resulting in lower borrowing costs and saving taxpayers money.
"We can't guarantee everything, and we will not take risk beyond what's prudent for us," Buffett said in an interview with the Journal.
He said he capitalized the new business at $105 million and will commit "quite a bit of capital if we like the business," but maintain "a capital ratio that's stronger than anybody's."
Rachel Baum, finance director of Miami-Dade County in Florida, said: "If it is well-capitalized, and people in the investment community will accept it, we are for it."
Berkshire owns more than 70 businesses, including auto insurer Geico Corp and reinsurer General Re Corp. It said it ended September with $47.08 billion of cash.
Fitch Ratings last week said MBIA and Ambac may lose their triple-A credit ratings, after the former shocked investors by revealing it had guaranteed $8.1 billion of particularly risky mortgage debt.
A smaller bond insurer, ACA Capital Holdings Inc <ACA.N>, is struggling for survival after last week ceding control of much of its business to Maryland regulators.
"Having new entrants in the market ... is a very positive development," New York's state insurance superintendent, Eric Dinallo, said in a statement. "That is why the (insurance) department expedited the licensing."
Ajit Jain, who runs much of Berkshire's insurance operations, will run the new Berkshire unit, the Journal said. Analysts consider Jain one of the top candidates to eventually replace Buffett, 77, at the helm of Berkshire.
CHARGING MORE
Buffett told the Journal the new unit would charge more than competitors because of the "moral hazard" that issuers might take advantage of the insurance to borrow too much. This would saddle insurers with a greater risk of default.
"If you're an issuer, you might pay more for Berkshire, because investors will be more comfortable they will be repaid if something happens," said Rob Haines, senior insurance analyst at CreditSights Inc.
Buffett, often called the world's greatest investor, is known for taking large business and investment risks.
He has said, for example, that Berkshire is willing to suffer a $6 billion insurance loss on a single storm. The company was able to boost premiums following Hurricane Katrina after weaker rivals reduced underwriting risk.
Buffett said the new insurance unit will avoid investing in structured products, including bonds backed by assets such as mortgages and credit-card receipts.
"Berkshire will be a formidable competitor, and take market share," Haines said. "Its entry is a big vote of confidence in the bond insurance business. It suggests the business remains viable, even with the problems MBIA and Ambac have had."
(1 euro = US$1.473)
(Additional reporting by Ritsuko Ando and Ed Leefeldt in New York, Michael Connor in Miami, and Karen Pierog in Chicago; Editing by Brian Moss and Braden Reddall)