Oceana Petitions the Government to Protect Loggerhead Sea Turtles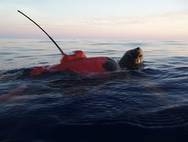 The majestic loggerhead sea turtle, an animal that has inhabited Earth longer than man, faces extinction because of human activities, such as threats from fishing gear. In fact, loggerhead sea turtle populations in the Atlantic are plummeting and a recent report by the federal government shows that the greatest man-made threat to loggerhead sea turtles in the Atlantic is capture in fisheries.
The future for loggerhead sea turtles in the Atlantic is grim at best. On top of the existing pressure from human impacts, climate change could soon push these sea turtles even closer to the brink of extinction. Oceana has issued a new report showing the possible impacts of climate change on sea turtles.
As a result of these factors, Oceana and the Center for Biological Diversity petitioned the U.S. Department of Commerce and the U.S. Department of the Interior to uplist this loggerhead population from "threatened" to "endangered" under the Endangered Species Act. In addition, the petition asks the government to protect the key habitat areas for these turtles in the Atlantic from human impacts.