Biodegradable F1 Car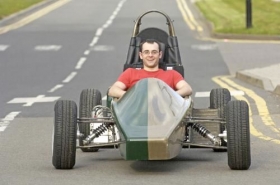 Formula One just gets better and better, after Honda created the Earth Car to reduce carbon emissions on the track.
Next on the list is a biodegradable car invented by Warwick University.

Work on the car will begin in the New Year, and it is going to be built out of coconuts. Already a sports car, which has a top speed of 150mph, and goes from 0 – 62 mph in just four seconds, has been built from hemp, potatoes and rapeseed.
Ben Woods, research engineer for Warwick University, recently showed his biodegradable sports car at the Science Museum in London. Dr Kerry Kirwan, an assistant professor at the university, says he started building biodegradable racing cars because people thought environmentally friendly products were boring.
The bodywork of the sports car, Eco One, is made from hemp, or marijuana, as some people know the plant, as and its held together with a resin made from plant oils. The tyres are made from about 1.5% potato starch, which replaces some of the fossil fuels, the break pads are made from cashew nut shells, and they use bioethanol as the fuel, made from wheat and plant oil. Its engine and chassis are steel, which can be easily recycled. The whole car is 95% biodegradable or recyclable.
Dr Kirwan and his team have not yet decided exactly what materials to use for the Formula One car, but are planning to include "tropical fibres", which include coconuts. They hope that their research will set an example for the motor industry. Woods comments,
"If we can build a high-performance car that can virtually be grown from seed, just imagine what's possible for the average family car."
Nick Fry, team principal of Honda Racing, says:
"Unless Formula One can become a contributor to the technology that might help the environment, it's likely that it will become a dinosaur… We're trying to say that you can be a fan of fast cars and do good things for the environment."
Unfortunately for the environment it is the global transport getting the cars, and the people, to and from the F1 races which is the biggest contributor to carbon emissions.