ShipGreen Offers Retailers a Web-Based Program to Offset Carbon Emissions from Shipping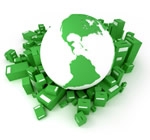 Source: www.triplepundit.com
Through the pioneering work of Dr. Cristiano Facanha of ICF International and Dr. Arpad Horvath of the University of California at Berkeley, ShipGreen.net now offers a web-based program that integrates with retailers' online shopping carts, enabling consumers to easily – and accurately – offset the carbon produced from product life-cycle shipping emissions.
Facanha and Horvath's combined experience in life-cycle assessment, supply chain, and freight transportation has allowed the pair to develop the most accurate algorithm yet possible in determining the carbon footprint of products from manufacture to delivery at the consumer's door.
The program easily integrates with a retailer's shopping cart, giving the customer the option to offset the carbon produced in shipping their purchases. Due to the accuracy of the algorithm developed by Facanha and Horvath, the average cost of an offset is only .29 to .49 cents. The modest cost may help bring some of the "almost greens" into the "bright green" category I spoke of in a previous post.
The offset programs funded through the program are verified in accordance with Kyoto Protocol requirements and, according to ShipGreen, to "The Gold Standard (f)or the Climate, Community & Biodiviersity Alliance, taking into account cultural, environmental, social and economic issues".