Ford U.S. January vehicle sales down 4.1 percent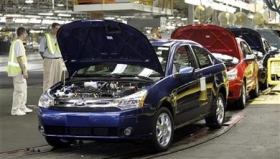 DETROIT (Reuters) - Ford Motor Co <F.N> said on Friday that U.S. auto sales fell 4.1 percent in January, and the economic and competitive market would remain challenging.
The struggling No. 2 U.S.-based automaker said it sold 159,914 vehicles in the United States in January, compared with 166,835 vehicles a year earlier.
Sales results for Ford included its import brands Volvo, Jaguar and Land Rover and some medium- and heavy-duty trucks.
(Reporting by David Bailey; editing by Jeffrey Benkoe)