High oil a blessing and a curse for farmers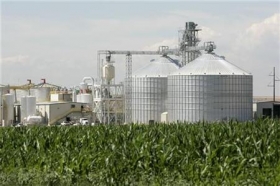 By Karl Plume
CHICAGO (Reuters) - Sky-high crude oil prices are both a blessing and a curse for U.S. farmers, who have seen a sharp jump in their energy-based input costs but also higher revenues from crops used for renewable fuel production.
U.S. crude oil futures rallied to a record high above $100 a barrel on Thursday, helping to send Chicago Board of Trade corn and soybean prices higher because of their increasing use for making alternative fuels.
"Prior to the ethanol and biodiesel build-out it could only be a negative for them through higher input costs. But today they get some gain as well because $100 a barrel oil implies much higher gasoline and ethanol prices," said Michael Swanson, an agricultural economist at Wells Fargo.
"The corn market has rallied on the prospect of that ethanol demand being solid going forward. Every bushel of corn, whether it goes into ethanol or not, is getting that premium tacked onto it," he said.
U.S. ethanol production capacity was estimated at more than 7.4 billion gallons per year, up nearly 40 percent from a year earlier, according to the Renewable Fuels Association.
Sales of U.S. produced biodiesel, which is made mostly from soybean oil, tripled in 2006 and were expected to be even higher in 2007, according to the National Biodiesel Board.
Spot CBOT corn futures hit an 11-year high of $4.69 a bushel this week, up from around $2.50 a bushel in the autumn of 2006. CBOT soybean futures nearly doubled from a year ago, rising to an all-time high of $12.93 on Thursday.
RISING INPUTS ERODE PROFITS
But as crop prices have soared, so have the costs of many essential energy-based farm inputs such as fertilizer, weed- and pest-control chemicals, and fuel for running machinery and drying grain.
Those increased costs have chewed away a large share of farmer profits, so analysts are divided on whether farmers are better off in a $100-a-barrel-oil world.
"When you have high prices, you also have higher risk so your margin of error shrinks. Your risk goes up as prices and volatility go up in energy," said Don Roose, president of U.S. Commodities in Des Moines, Iowa.
"Hopefully we don't get a disconnect sometime between energy and grain, which we have seen in Brazil and the sugar areas," he said, citing South America's largest producer of ethanol made mostly from sugar cane.
Other experts said the benefits of higher oil prices may slightly outweigh the drawbacks because less than half of total farm operating costs are tied to energy prices while the rest are non-energy costs such as labor, machinery and land.
"It's going to hit them on the fertilizer and the diesel side, but that's only part of it. The fact that they get some benefit from the upside and only a portion of their cost structure is hit by energy, it's still a net win for them," Swanson said.
"They are probably one of the most energy intensive groups out there as an industry, but we certainly would not have nearly $5 a bushel corn on the Chicago Board of Trade if we didn't have a huge growth market for ethanol."
(Reporting by Karl Plume; editing by Jim Marshall)