Strong earthquake hits Greece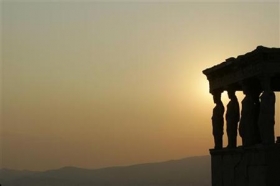 ATHENS (Reuters) - An earthquake measuring 6.5 on the Richter scale struck Greece on Sunday, shaking people out of bed and sending panic-stricken villagers into the streets but there were no immediate reports of casualties or damage.
The quake woke residents in the capital Athens, where 143 people were killed in 1999 by an earthquake measuring 5.9 on the Richter scale. Greece is often rattled by earthquakes, most causing no serious damage.
Sunday's strong jolt prompted people in several cities to call emergency services. Police said they had not received any reports of casualties or damage so far.
"The house was shaking badly," a woman from the northern Athens suburb of Maroussi told a radio station.
Officials said the epicenter of the quake was near the town of Leonidio on the Peloponnese peninsula.
"At 7:14 a.m. (12:14 a.m. EST) there was a strong earthquake measuring 6.5 on the Richter scale, 150 km (90 miles) south, southwest of Athens," said George Drakatos from the Athens Observatory that monitors quakes.
Seismologists said the quake was about 80 km (50 miles) deep and that explained why it had not caused serious damage. The deadly 1999 Athens earthquake was closer to the earth's surface.
The U.S. Geological Survey said on its website that the earthquake had a magnitude of 6.1.
"There was panic and small items fell in households but there was no serious damage," said the deputy mayor of Leonidio, Ilias Manos. "People rushed out to the streets but everything is normal now.
"It was a very strong earthquake but we've communicated with the surrounding villages and until this moment there is no problem," he told Greek television.
Greek media said they had received calls from people who felt the quake in several towns, mainly in the south and on Aegean Sea islands.
(Reporting by Dina Kyriakidou, editing by Myra MacDonald)