IAEA Director sees progress with Iran inquiry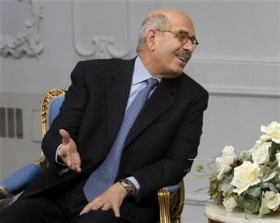 By Alaa Shahine
CAIRO (Reuters) - The head of the U.N. nuclear watchdog said on Sunday he was making progress in finishing an inquiry into Iran's nuclear past ahead of his next report awaited by those powers mulling new sanctions.
International Atomic Energy Agency Director Mohamed ElBaradei also said he was still hopeful Iran would allow broader IAEA inspections to shed light on its present program, which the West fears has a covert purpose to produce atom bombs.
"We are going to have my next report to the (IAEA) Board (of Governors) sometime around the end of this month," he told reporters in Cairo after talks with Arab League Secretary-General Amr Moussa.
"We are making good progress in resolving the remaining outstanding issues of the past," said ElBaradei, whose verdict on Iranian cooperation will influence the extent of more U.N. sanctions against Tehran being prepared by world powers.
Iran, a major oil exporter which hid efforts to enrich uranium from the IAEA until 2003, says its nuclear energy program is solely for generation of electricity.
Its defiance of U.N. Security Council demands that it suspend enrichment and show complete transparency about its program led to two batches of limited sanctions. World powers have drafted broader measures as they await ElBaradei's report.
During a rare Tehran visit by ElBaradei on January 11-12, Iran agreed to answer remaining questions in a long-stalled inquiry into past nuclear activities by mid-February.
It also handed over some information on efforts to produce "a new generation" of centrifuges able to refine uranium much faster, and for the first time allowed ElBaradei and aides to visit a workshop developing such centrifuges, diplomats said.
FRESH SANCTIONS PUSH
In Berlin last month, six world powers agreed the tentative outline of a new Security Council sanctions resolution although diplomats said the draft lacked punitive trade measures the United States had sought.
Asked about Western suspicions of Iran, ElBaradei said: "The agency can carry out inspections and give guarantees about the past and the present, but we cannot read future intentions.
He has urged Washington to join talks with Iran rather than trying to isolate it.
Diplomats have said the IAEA is in the last stage of its investigation, with Iran addressing intelligence about past efforts to "weaponize" nuclear materials.
ElBaradei's report will spell out whether Iran has done enough for the four-year-old inquiry to be wrapped up, detail information provided on development of advanced centrifuges, and provide an update on enrichment activity at its Natanz plant.
The ambiguity surrounding the nuclear drive of Shi'ite Muslim Iran has concerned the mainly Sunni Arab world, including U.S. allies Egypt and Saudi Arabia.
Egypt and the Gulf Cooperation Council, a loose group of six oil-rich countries, have declared interest in developing nuclear power, raising concerns of a possible arms race with Iran.
ElBaradei played down fears that Arab countries were interested in developing nuclear weapons. "All Arab countries' nuclear activities will be under the agency safeguard system so I don't see a reason why anybody should be concerned," he said.
(Editing by Mark Heinrich and Matthew Jones)