Starbucks to slash U.S. store openings through 2011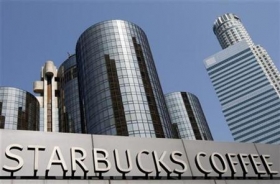 By Lisa Baertlein
LOS ANGELES (Reuters) - Starbucks Corp <SBUX.O> said on Wednesday it would slash U.S. coffee store openings through 2011 as it adjusts to slower U.S. growth and turns its focus to expanding newer international markets.
The company, which warned last week of the worst economic environment in its history, blamed the domestic housing crisis for a significant quarter-over-quarter deterioration in U.S. customer traffic and said it saw early signs of a potential traffic slowdown in the United Kingdom, which may be related to economic problems there.
Chief Executive Howard Schultz, brought back in January to lead a turnaround of the company, continued to dismiss fears that Starbucks was overbuilt or that new competitors like McDonald's Corp <MCD.N> were stealing customers with coffee drinks.
The U.S. mortgage meltdown was leaving customers less to spend, he argued.
"We strongly believe it is not the competition ... We don't believe that we've saturated the market, but we do believe that we have a head wind the likes of which we've never seen," Schultz told analysts in a conference call.
Wall Street was lukewarm to the company's pull-back in new openings.
"It's not really surprising that they've slowed their store growth. The fact that they are making plans to slow it is certainly better than what they were telling us before," said John Langston, an analyst at Hodges Capital Management.
On Wednesday, the coffee shop chain posted fiscal second-quarter net income of $108.7 million, or 15 cents per share, compared with $150.8 million, or 19 cents per share, a year earlier.
Results from the most recent quarter included restructuring-related charges of about 3 cents per share.
The company last week warned that the results would be weak. Prior to that, analysts had been looking for a second-quarter profit of 21 cents per share. Wednesday's results matched lowered estimates, according to Reuters Estimates.
Total revenue rose a smaller-than-expected 12 percent to $2.53 billion after sales at U.S. stores open at least 13 months fell in the mid-single digits.
Starbucks' U.S. stores delivered 77 percent of total revenue and experienced slower traffic during the quarter.
Starbucks is bracing for its first full-year profit decline since 2000, forecasting fiscal 2008 per share earnings that are somewhat lower than the 87 cents reported last year.
Nevertheless, it is forecasting accelerating earnings for 2009 through 2011.
Starbucks sees per share earnings in a range of 90 cents to $1 for fiscal 2009, of $1.10 to $1.20 for 2010 and $1.35 to $1.50 for 2011.
In a bid to improve its fortunes, Starbucks said it planned to reduce its fiscal 2008 U.S. store openings to 1,020, the second decrease this year.
When founder Howard Schultz returned as CEO, he cut the company's fiscal 2008 store openings to 1,175 from 1,600. The company opened nearly 1800 stores in fiscal 2007.
Under the new plan, U.S. company-owned and licensed store openings would be limited to 400 per year in 2009 through 2011, while international openings in those years would range from 1,050 to 1,300.
Schultz in the past has said that the company, with its coffee drinks that can easily cost $4 each, was virtually immune to economic weakness.
On Wednesday, he specifically linked its woes to the U.S. housing crisis, saying it has been hardest hit by foreclosure leaders California and Florida, which account for about one-third of Starbucks' retail sales.
"Starbucks coffee and premium coffee experience has, over time, been an affordable luxury. And at this time, it isn't for some people," Schultz said.
Starbucks shares fell to $16.11 from their Nasdaq close of $16.23. They had gained 3 cents during regular trade.
(Reporting by Lisa Baertlein; Editing by Richard Chang and Carol Bishopric)