Court says San Francisco health plan can proceed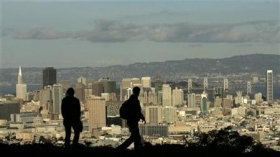 SAN FRANCISCO (Reuters) - San Francisco's universal health-care plan, a first-of-its kind local program to be funded in part by fees from employers, may go forward while under appeal, a U.S. appeals court panel ruled on Wednesday.
The decision by the three-judge panel of the U.S. Ninth Circuit Court of Appeals said San Francisco is likely to successfully defend a court challenge to its health plan, which aims to provide medical insurance to all adults residents of the city at an estimated annual cost of $200 million.
The rising cost of health-care insurance is a top political issue amid the U.S. presidential primary season. Some local and state governments, including California's, are exploring the feasibility of new programs to provide medical insurance to those without private coverage and not in existing public health-care programs.
A restaurant association had challenged San Francisco's plan and won an early round when a U.S. District Court judge ruled local governments could not compel employers to pay into medical insurance programs.
The appeals court's decision, which stays the district court's ruling, may help California Gov. Arnold Schwarzenegger's effort to provide health insurance to state residents lacking it.
The governor's plan, now with the state Senate after the state Assembly endorsed it, relies in part on employer payments to fund coverage for the uninsured.