Best Buy December sales slow, shares off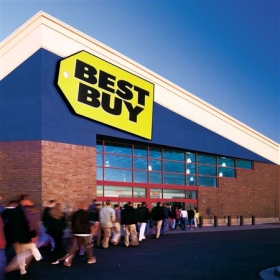 By Karen Jacobs
ATLANTA (Reuters) - Top consumer electronics retailer Best Buy Co <BBY.N> on Friday posted slower growth in same-store sales for December as weaker consumer spending hurt television sales, and its shares fell more than 4 percent.
Despite strong demand for video games, flat-panel TVs and laptops, December sales at stores open at least 14 months rose 1.5 percent, compared with the year earlier's 7 percent rise, as higher gasoline prices and a crumbling housing market pressured U.S. consumers.
"We continue to foresee a challenging year as consumers become increasingly cautious with big-ticket spending," CIBC World Markets analyst Vivian Ma said in a research note.
Ma said fourth quarter same-store sales could fall below her firm's estimate of 3 to 4 percent growth.
Adjusting for a shift in the calendar that removed the key shopping week after Thanksgiving from the December tally, the December 2007 overall same-store sales rise was 3 percent.
Strength in popular flat-panel TVs was overshadowed by weakness in projection and traditional tube models.
"The weaker TV results (both sets and attachments) were modestly surprising given that Best Buy had appeared to be executing very well through the holiday season," Sanford Bernstein analyst Colin McGranahan said in a research note.
Still, Best Buy fared better than rival Circuit City Stores Inc <CC.N>, which posted an 11.4 percent fall in December same-store sales earlier this week and said it expects a fourth-quarter loss.
Best Buy's total revenue rose 11 percent to $7.3 billion in the five weeks ended January 5. U.S. sales rose 8 percent, while international revenue, which includes stores in Canada and China, jumped 30 percent.
Entertainment software was the strongest category, with same-store sales growth of 8.2 percent, as gift-giving buyers scooped up video games. The home office segment had a 4.7 percent sales gain on strong notebook computer sales. But the consumer electronics category posted a 3.1 percent sales decline on the TV results.
Best Buy, based in Minneapolis, said it still expects to earn $3.10 to $3.20 a share for the full year on revenue of about $40 billion. It had raised that forecast last month.
Analysts currently expect full-year profit of $3.18 a share on revenue of $40.25 billion for the year, according to Reuters Estimates.
Best Buy's shares were down $1.88, or 4.1 percent, to $44.69 in midday trading on the New York Stock Exchange, while Circuit City rose 31 cents, or 8 percent, to $4.20.
(Additional reporting by Martinne Geller in New York; Editing by Derek Caney)