France defends GMO crop ban, says temporary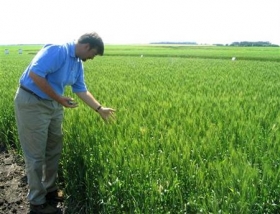 By Sybille de La Hamaide
PARIS (Reuters) - French ministers tried on Tuesday to calm tensions following the government's decision to ban cultivation of the sole genetically modified (GMO) crop grown in the country, stressing that the move was temporary.
Prime Minister Francois Fillon said at the end of last week that France would activate a "safeguard clause" in European law to suspend the commercial use of MON 810, a maize developed by U.S. biotech giant Monsanto.
The decision was welcomed by anti-GMO groups, but it drew fire from farmers, seed producers and scientists, some of whom helped pen a report underscoring doubts over the MON 810, which they said could contaminate other crops and hurt biodiversity.
The report triggered the government's decision on the ban.
An increasing number of members of parliament from the ruling centre-right UMP also criticized the government for basing its decision on a panel's controversial opinion.
But Environment Minister Jean-Louis Borloo told the National Assembly that the clampdown on MON 810 was a precaution that would only last until the release of an European re-evaluation of the crop in the coming months.
"It is a precaution measure that applies for a certain period lasting until the setting up of a European stance (on the MON 810)," Borloo said.
The Commission has approved the use of MON 810 around the 27-nation bloc but the pesticide must be re-evaluate in the framework of a renewal of its license.
EU authorities will also have to say whether the France's safeguard clause is justified. When a country activates the safeguard procedure it has to provide the European Commission, with proof there is new scientific evidence justifying a ban.
CRUCIAL
Borloo insisted that biotechnologies were crucial for France, especially for its farming sector.
"In terms of agriculture it is doubly crucial for us. We have trouble feeding six billion people, nine billion tomorrow, with less water resources, less arable land and probably less productive soil," Borloo said.
"It is crucial for France, which is the first agri-food producer in Europe, it is crucial for employment and it is crucial for our country's attractiveness," he said.
French Education Minister Valerie Pecresse stressed that France's ban only applied to MON 810, not all GMOs. Green lobbies and activist Jose Bove have protested the use of GMOs in general.
"Talking about GMOs in general makes no sense. Each genetically modified plant is a particular case which must be examined specifically," she told the assembly.
The MON 810 technology, which is also used by other seed makers, is designed to resist the European corn borer, a pest that attacks maize stalks and thrives in warmer climates.
Monsanto says the protein contained in its maize has selective toxicity but is harmless to humans, fish and wildlife.
"There is nothing in common between a poplar grown to make biofuels, tobacco that may be used in an anti-cancer drug or maize for animal feed," she added.
She also called on researchers to keep on working on plant biotechnologies.
"If they renounce, if they leave the country, we will have turned our back on our future," she said. "It's out of the question."
(Editing by Michael Roddy)