France's Besson plans film focusing on environment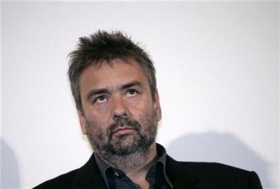 PARIS (Reuters) - French film maker Luc Besson is to make a full length movie inspired by French photographer Yann Arthus-Bertrand's "Earth from the Air" images of the planet, French retailer PPR, the film's sponsor, said on Monday.
The film, with the working title "Boomerang," is intended to contribute to "raising awareness of the dire condition of our planet," PPR said. It is due to be released on World Environment Day -- June 5 -- in 2009.
It follows in the wake of Al Gore's Oscar winning "An Inconvenient Truth" and Leonardo DiCaprio's "The 11th hour."
Any profits from "Boomerang" will go to a foundation set up by Arthus-Bertrand to promote sustainable development, PPR said.
The film will be produced by Besson's EuropaCorp and Elzevir Films. EuropaCorp will handle distribution.
(Reporting by Nick Antonovics; editing by Keith Weir)