Planned U.S. wind farm clears regulatory hurdle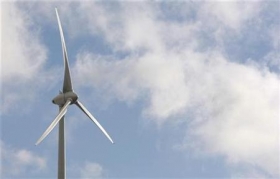 By Scott Malone
BOSTON (Reuters) - Plans to build the United States' first offshore wind farm cleared a regulatory hurdle on Monday when a preliminary federal environmental review found it would pose no major ecological risks.
The Cape Wind project, which would locate 130 wind turbines off an upscale Cape Cod beach resort area, would have some effect on the area's birds and views, the review by a unit of the U.S. Department of the Interior found, but not enough to block the project.
Homeowners on Cape Cod and the nearby islands of Martha's Vineyard and Nantucket, including the Kennedy political dynasty which has a vacation compound at Hyannis Port on the Cape, have complained that the 247-foot turbines, which would be located about 4.7 miles offshore, would spoil their ocean views.
"Any rational observer who reads this report will understand that this project is not going to produce negative environmental impact," Jim Gordon, president of privately held Cape Wind Associates LLC, told reporters. "It will produce significant improvements in our environment."
The $1 billion project, to spread over 24 square miles of the Nantucket Sound, would provide enough power for 400,000 homes.
The environmental review found the wind farm and its construction would mostly have negligible to minor effects on its surrounding environment, with moderate effects on coastal and sea birds, as well as on "visual resources."
"Moderate" impacts, the second most serious rating in the agency's four-level scale, means that a project would have unavoidable effects on the surrounding area, but that those effects could be mitigated.
A 60-day public comment period on the 2,000-page draft statement will begin on Friday, after which the Minerals Management Service will issue its final review.
"The DEIS confirms that Cape Wind is a clean energy opportunity that can't be missed," said Philip Warburg, president of the Conservation Law Foundation, an environmental advocacy group, in a statement. "This document is another positive step forward and builds even more momentum for the project to be completed as planned."
The project's supporters, including Massachusetts Gov. Deval Patrick, say the wind farm would save millions of dollars in energy costs and lessen the United States' dependence on imported oil at a time of record-high prices.
Cape Wind has so far spent $30 million in seeking permission to build the wind farm, which would feature white towers with three spinning blades.
In November, the Cape Cod Commission, a local government body, blocked its request to bury the cables needed to connect the 420-megawatt wind farm to the state's power grid. Cape Wind has appealed that decision to Massachusetts Energy Facilities Sitting Board, which has the final say.
If Cape Wind receives final clearance to build the wind farm, it would seek to raise debt and equity investment to fund construction, Gordon said.
(Editing by Alan Elsner)