Anti-whalers"taken hostage" on Japanese whaling ship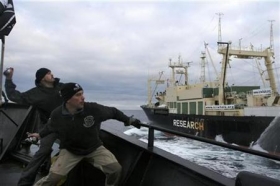 By Michael Perry
SYDNEY (Reuters) - Two anti-whaling activists were "taken hostage" and tied to a radar mast of a Japanese whaling vessel in the Southern Ocean on Tuesday, the Sea Shepherd Conservation Society said.
Australian Benjamin Potts and Briton Giles Lane, from the Sea Shepherd vessel Steve Irwin, had boarded the Japanese whaling ship Yashin Maru No. 2 to hand the captain a letter advising that the crew was "illegally killing whales," said the militant anti-whaling group.
"They were successful in delivering the message, but then they were not allowed to leave and return back to our vessel," Sea Shepherd spokeswoman Christine Vasic told local media.
"The Yushin Maru is now still moving ahead away from us and not responding to radio contact," she said.
Japan's Institute for Cetacean Research confirmed that the two men had been detained and were being held in a locked room on the whaling ship, but denied they were tied up.
"Any accusations that we have tied them up or assaulted them are completely untrue," the Institute's director-general, Minoru Morimoto, said in a statement posted on its Web site.
"It is illegal to board another country's vessels on the high seas. As a result, at this stage, they are being held in custody while decisions are made on their future," he said.
"The two boarded the Yushin Maru No. 2 after they made attempts to entangle the screw of the vessel using ropes and throwing bottles of acid onto the decks."
The Sea Shepherd group called on Australia and Britain to demand the immediate release of the two crew members.
The anti-whaling group had been searching for the Japanese whaling fleet in Antarctic waters and said it had discovered five whaling ships on Tuesday and started pursuing them.
"We will hound these poachers for as long as we can and when we catch up with them we will disable their equipment and do everything physically possible short of inflicting injury on the crew in order to stop their illegal activities," Steve Irwin captain Paul Watson said in a statement.
Watson last year threatened to ram the Japanese flagship and collided with a whale hunter.
COURT CASE
Environmental group Greenpeace, which has distanced itself from Sea Shepherd's more confrontational tactics, said on Monday it had chased the flagship of Japan's whaling fleet from hunting grounds near Antarctica.
An Australian fisheries ship is searching for the fleet to gather photographic evidence for an international court case aimed at stopping Japan's annual "scientific" hunt.
In a purely symbolic act, but one that could inflame bilateral ties, an Australian court ruled on Tuesday that a Japanese whaling company broke environment laws by killing whales in Australia's Antarctic waters.
But the Federal Court of Australia has no jurisdiction outside Australia and the Japanese government denied the whalers were doing anything illegal.
"According to the International Whaling Commission, what the Japanese whaling fleet is doing in the South Pacific and Antarctic region is legal," said Tomohiko Taniguchi, a spokesman at Japan's Foreign Ministry. An official at Japan's Fisheries Ministry declined to comment.
Japan plans to hunt almost 1,000 minke and fin whales for research over the Antarctic summer, but has abandoned the cull of 50 humpback whales after international condemnation and a formal diplomatic protest by 31 nations.
Humane Society International (HSI) launched legal action against Kyodo Senpaku Kaisha Ltd in 2004, seeking a federal court injunction against harvesting in the Australian Whale Sanctuary.
Federal court Judge Jim Allsop ruled on Tuesday the whaler had "killed, injured, taken and interfered with Antarctic minke whales and fin whales and injured, taken and interfered with humpback whales in the Australian Whale Sanctuary in contravention of...the Environment Protection and Biodiversity Conservation (EPBC) Act."
But the judge conceded there was little chance his ruling could be enforced.
Japan has long resisted pressure to stop scientific whaling, insisting whaling is a cherished cultural tradition. Its fleet has killed 7,000 Antarctic minkes over the past 20 years.
(Additional reporting by Isabel Reynolds in Tokyo; Editing by Alex Richardson)