Final U.S. decision expected on food from clones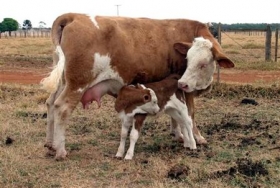 WASHINGTON (Reuters) - The U.S. Food and Drug Administration is expected to make a final ruling on Tuesday that food from cloned animals and their offspring is as safe as any other, opening the door to the controversial technology in the U.S. food supply.
The FDA will brief reporters at 12 noon EST on the final risk assessment on animal clones.
FDA officials were unavailable to provide details on the proposed rule. But The Washington Post reported late on Monday that the agency made a final ruling in line with an earlier, interim decision, finding food from cloned cattle, pigs, and goats was safe to eat.
The agency said it did not have enough information to make the same assertion about cloned sheep, the report said.
The cloning industry expects that it will be the offspring of cloned animals, not the costly clones themselves, that would eventually provide meat or milk to U.S. consumers.
There are currently about 570 cloned animals in the United States, but the livestock industry has so far followed a voluntary ban on marketing food from the animals.
While the science appears to have come down on the side of the cloning industry, the technology remains controversial, even within the agriculture industry.
Some dairy firms oppose cloning, betting that consumers will shun goods they see linked to cloning technology. Others believe that more investigation is needed to conclude cloning is safe.
Last week, the European Food Safety Authority made an interim ruling about food from cloned animals and their offspring, saying it was unlikely there was any difference from food derived from traditionally bred animals.
(Reporting by Missy Ryan, editing by Matthew Lewis)