Italy hails return of ancient vase from New York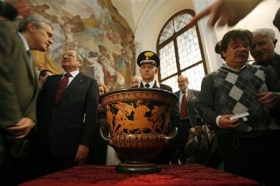 By Silvia Aloisi
ROME (Reuters) - Italy proudly celebrated the return on Friday of a prized 2,500-yeard old vase it says was looted and sold illegally to New York's Metropolitan Museum more than 30 years ago.
The krater, a perfectly preserved Greek vessel for mixing water and wine which was the showpiece of the Met's antiquities collection for more than three decades, was unveiled in Rome -- the first time it has been on display in Italy.
The return of the vase, considered the best work of Greek artisan Euphronios, is part of the agreement Italy reached with the Met in February 2006 ending decades of wrangling over antiquities Rome says were plundered.
Italy says the krater, which was bought by the Met in 1972 for $1 million, was illegally excavated from a tomb in Cerveteri, near Rome.
Culture Minister Francesco Rutelli said having it back in Italy was an "historic event."
The vase is probably the most prized of a string of ancient art works retrieved by Italy in the past two years after long negotiations with top U.S. museums, where Rome says some of the treasures looted by tomb raiders have ended up on display.
In exchange for the return of the vase and 20 other objects, Rome has offered the Met a series of rare ceramic antiquities on a long-term loan.
In a rare display of unity, Rutelli invited his predecessor and political rival Rocco Buttiglione, who signed the deal with the Met during Silvio Berlusconi's centre-right government, to speak at the news conference on the krater's return.
"This is a success story, the Italian state has won," Buttiglione said.
The krater will now go on display in the "Nostoi: Recovered Masterpieces" exhibition inaugurated last month in Rome, where nearly 70 ancient artifacts -- most of them returned by the J. Paul Getty Museum after a similar deal -- are already on show.
"It's a wonderful day for us also. It's a victory for culture and art," Mark Smith, cultural attache at the U.S. embassy in Rome, told Reuters at the presentation.
"I think that as a result of these agreements that have brought these wonderful works back to Italy, American and Italian museums are going to be able to cooperate more and more closely in the future. So it really is a victory for everyone."
The Met had bought the krater from Robert Hecht, an antiquities dealer who is now on trial in Rome on charges of conspiring to traffic in looted artifacts. The ex-curator of the Getty museum is also a defendant in the trial. Both deny any wrongdoing.
Rutelli said Italy has also just reached an agreement for the return of 10 antiquities held by New York philanthropist Shelby White, the first time such a deal has been struck with a private collector.
(Editing by Matthew Jones)