Giants and Patriots win to set up Super Bowl clash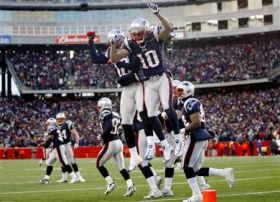 NEW YORK (Reuters) - The New England Patriots will face one more challenge in their bid for a perfect season: a Super Bowl meeting with the surprising New York Giants.
The Patriots, winners of 18 consecutive games this season, and the underdog Giants won conference championships on Sunday to advance to the February 3 Super Bowl in Arizona.
New England turned back the San Diego Chargers 21-12 a few hours before the Giants surprised the Green Bay Packers 23-20 on Lawrence Tynes's 47-yard field goal in overtime.
The victories set up a rematch of a December regular-season meeting in which the Patriots rallied from a 12-point deficit to beat the Giants 38-35.
Should the Patriots win the Super Bowl, they would join the 1972 Miami Dolphins as the only NFL teams to complete a season undefeated. The Dolphins went 14-0.
The victory over the Chargers, however, did not come easily.
New England quarterback Tom Brady needed to overcome a slow start and some errant passing in windy conditions to secure the win against an injury-depleted San Diego side.
A pair of second-quarter touchdown drives and a fourth-quarter TD strike to Wes Welker helped Brady make up for three stunning interceptions.
Laurence Maroney rushed for 122 yards as New England relied on a running game to move the ball and grind out the clock after taking a 14-9 lead at the intermission.
"I think the difference was the players," Patriots coach Bill Belichick said after the game.
"These guys played great. They played great all year and played great today."
MISSED CHANCES
San Diego, led by a gutsy performance by injured quarterback Philip Rivers and without running back LaDainian Tomlinson, failed to fully capitalize on a number of drives deep into Pats territory.
The Chargers settled for field goals of 32, 23, 40 and 24 yards by Nate Kaeding after three drives, two of them in the first half, stalled inside the nine-yard line.
The Giants needed overtime and a third chance for Tynes to claim their win over the favored Packers on the frozen turf of Green Bay, Wisconsin.
Tynes missed two field-goal attempts in the final seven minutes that would have won the game -- including a routine 36-yarder with no regulation time left.
However, he redeemed himself in overtime, converting from 47 yards after the Giants Corey Webster intercepted a Brett Favre pass.
"I just wanted to get out of the cold," said Tynes, who raced off the field as the ball sailed though the uprights.
"I think I was inside before it went through."
New York quarterback Eli Manning completed 21-of-40 passes for 254 yards in directing the win.
Favre passed for two touchdowns, the second giving Green Bay a 17-13 lead in the third quarter, but was hurt by two interceptions.
(Writing by Gene Cherry in Salvo, North Carolina; Editing by John O'Brien)