UAL net loss shrinks in fourth quarter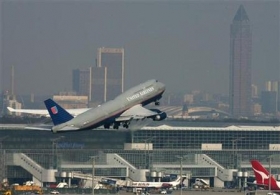 CHICAGO (Reuters) - UAL Corp <UAUA.O>, parent of No. 2 U.S. carrier United Airlines, on Tuesday posted a quarterly loss on soaring fuel prices as winter weather forced the cancellation of more than 1,100 flights.
The company said its fourth-quarter loss amounted to $53 million, or 47 cents per share, compared with $61 million, or 55 cents per share, a year earlier.
(Reporting by Kyle Peterson, editing by Maureen Bavdek)