Cuba bans marine turtle hunt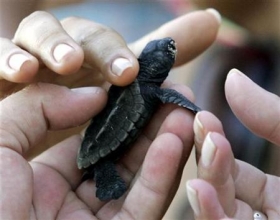 HAVANA (Reuters) - Cuba has banned the hunting of marine turtles endangered in the Caribbean by the illegal trade in shells used to make combs, an official said on Tuesday.
The decision was applauded by the World Wildlife Fund (WWF) as a lifeline to all turtle species hatching on beaches throughout the Caribbean, but above all the critically endangered hawksbill turtle.
The ban took effect this weekend, said the Cuban Fisheries Ministry's director of regulations, Elisa Garcia. She said it would remain in effect "until it is scientifically proven that the species is recovering."
"This far-sighted decision represents an outstanding outcome for Cuba, for the wider Caribbean and for conservation," said the WWF species program director, Dr. Susan Lieberman.
For many years, Cuba had a legal fishery quota of 500 hawksbills a year to keep up its export of turtle shells, but has finally acted on the pleas of conservationists.
Two fishing communities that still hunted turtles, Nuevitas in Camaguey province and Cocodrilo on the Isle of Youth, will get funding from the Canadian International Development Agency (CIDA) to find alternative sources of income and modernize their fishing fleets.
Fishermen will be retrained and engaged in the protection of turtles and their nests, the WWF said in a statement.
The turtles are threatened by the loss of nesting and feeding habitats, egg collection, entanglement in fishing gear, as well as climate change and pollution. But the main threat comes from the continuing illegal trade in tortoise shells.
(Reporting by Anthony Boadle, editing by Todd Eastham)