Oil rocks airlines, sparks Air France profit warning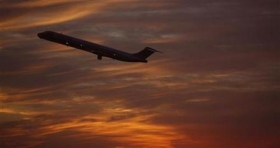 By Daryl Loo and Tim Hepher
SINGAPORE/PARIS (Reuters) - Airlines around the world braced for slower growth, tighter earnings and deeper cost cutting on Thursday as oil prices surged and the biggest carrier by revenue, Air France KLM <AIRF.PA>, warned on profits.
Oil's spike to a record $135 a barrel knocked airline shares worldwide, with top U.S. carrier American Airlines <AMR.N> revealing its sharpest cutbacks since the hijack attacks of September 11 2001, including thousands of job cuts.
Air France KLM's chief executive, Jean-Cyril Spinetta, warned the airline would have to expect a 1.1 billion euro ($1.73 billion) rise in fuel costs, squeezing profits this year and forcing it to find 150 million euros in savings.
It now expects an operating profit "in the region of 1 billion euros," Spinetta said, which would mean a fall of 30 percent from the year which ended in March.
"The current year is set to be challenging, with the oil price and the global economy creating significant uncertainty," Spinetta said.
Oil prices have surged 170 percent since the start of 2007 and airlines have been toppled, including U.S.-based transatlantic all-business carrier Eos and budget airline Aloha Airlines.
American Airlines said on Wednesday it plans to chop its U.S. capacity by up to 12 percent in the fourth quarter, underscoring the impact on industry heavyweights and sending shares in parent AMR Corp plunging 24 percent.
Air France shares were off 10 percent at 16.8 euros and German rival Lufthansa <LHAG.DE> was down 3.5 percent at 15.6 euros as of 1200 GMT. In Asia, Japan Airlines (JAL) <9205.T>, fell back 2.1 percent to 240 yen and Singapore Airlines <SIAL.SI> lost 1.6 percent to S$15.80 .
Australia's Qantas Airways <QAN.AX> put up international fares by 4 percent and domestic ones by about 3 percent in its second such move in a month.
NEED TO ACT
JAL, Asia's biggest carrier by sales, said it too needed to act.
"We try to absorb it ourselves but it's beyond our ability to absorb all of it and we need to transfer (some) to our customers," Chief Executive Haruka Nishimatsu told Reuters in Singapore.
The cost of jet fuel traded in Singapore <JET-SIN> has risen by more than half this year and analysts expect more cost cutting, particularly among U.S. carriers as an economic slowdown puts off travelers.
"It is going to actually send some (smaller) airlines into bankruptcy," said Nick van den Brul, analyst at Exane BNP. "The best position for an airline is to have a good hedge already in place ... a euro exposure to the dollar and also the ability to cut costs."
Even for carriers with fuel hedges providing a buffer there are other challenges as the economic uncertainty in the United States and elsewhere threatens growth plans.
Some carriers are also the subject of sweeping EU and U.S. investigations into allegations of price-fixing in air cargo which pose cost risks, as seen in Air France KLM taking a 530 million euro pre-tax provision on Thursday.
There is pain too as delays in new, more fuel-efficient planes put expansion plans and urgently needed cost savings on hold.
Airbus <EAD.PA> announcing a fresh delay in A380 superjumbo deliveries this month and Boeing's <BA.N> 787 Dreamliner now running 15 months late.
JAL boss Nishimatsu complained on Thursday that the 787's delay was hurting the airline's expansion plans.
Tough times could also bring consolidation, analysts say.
Lufthansa Chief Executive Wolfgang Mayrhuber said on Wednesday he was willing to consider taking a stake in smaller neighbor Austrian Airlines <AUAV.VI>.
(Writing by Jason Neely; Additional reporting by Rebekah Curtis in London; Editing by Greg Mahlich)