Newark Bay closed after two ships collide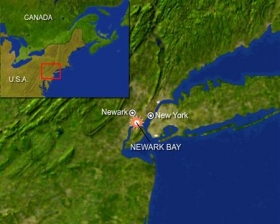 NEW YORK (Reuters) - A ship carrying orange juice collided with a dredging vessel in Newark Bay on Thursday, closing the bay to all ship traffic, the U.S. Coast Guard said.
The 669-foot (204-metre) Orange Sun and the dredging vessel New York collided around 1:50 p.m. EST (1850 GMT), the Coast Guard spokesman said. No injuries were reported.
The New York had been taking on water but was stabilized, and the Orange Sun was being tugged back to the pier, Petty Officer Third Class Annie Berlin said.
"A small amount of hydraulic oil from the New York leaked into the bay. There are no reports of major pollution," Berlin said.
She did not say when the bay would reopen to ship traffic. New York Harbor oil traders said the incident was unlikely to have much of an impact on oil movements.
Newark Bay includes Port Newark/Elizabeth in New Jersey, the main port of entry for goods brought to the greater New York City area.
Port Newark has two orange juice concentrate storage and blending facilities, according to the Port Authority of New York and New Jersey Web site.
A New York Harbor based oil trader said the closure of the bay to shipping would not affect fuel deliveries. "It's out of the main shipping channel however ... probably won't affect much in terms of ship movements," he said.
"We don't see it being an issue in the short-term," said Bill Graham, a spokesman for ConocoPhillips, which operates the large, 238,000 barrel-per-day Bayway oil refinery, located just south of the bay.
A ship broker said the owner of the Orange Sun, built in 2007, was listed as Altanship.
(Reporting by Janet McGurty, Haitham Haddadin and Daniel Trotta; Editing by David Gregorio)