Anti-whaling protest ship running out of fuel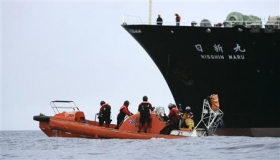 By Michael Perry
SYDNEY (Reuters) - Environmental group Greenpeace said on Saturday its anti-whaling ship, which has been harassing Japanese whalers in the Southern Ocean, had saved an estimated 100 whales but was running low on fuel and would return to port.
"In a dramatic 4,300-nautical mile chase, the Esperanza spent 14 days chasing the whaling fleet's factory ship, the Nisshin Maru," Greenpeace said in a statement.
"Without the factory ship, the remaining hunter vessels have been unable to operate -- bringing the entire whaling program to a halt," it said.
Japan's six-ship whaling fleet has been trying to avoid anti-whaling protest ships in the Southern Ocean after protesters stopped whaling operations when two activists boarded a whaling ship and another group stopped a whaling ship from refueling.
The militant Sea Shepherd Conservation Society, which boarded the Japanese ship, has threatened to find the whalers and again stop them hunting. Greenpeace, which prevented the factory ship from refueling, has been trailing the fleet.
Japanese whaling officials have said they plan to try to exhaust the fuel supplies of the anti-whaling ships before they resume whaling.
That appears to be what is happening.
The Esperanza will return to port in Australia in about 10 days time, ending its latest effort to stop Japan from hunting the giant mammals.
"While the Esperanza must return to port, the campaign to stop whaling in the Southern Ocean Whale Sanctuary is far from over," said expedition leader Karli Thomas in a statement.
Japan plans to hunt almost 1,000 minke and fin whales for research over the Antarctic summer, but has abandoned the cull of 50 humpback whales after international condemnation and a formal diplomatic protest by 31 nations.
Greenpeace said it estimated the whalers needed to catch approximately nine minke whales each day and an endangered fin whale every other day in order to reach their quota, but anti-whaling activists had disrupted that schedule.
New Zealand Prime Minister Helen Clark warned the whalers on Friday that surveillance photos of the fleet revealing their location would be published if they entered New Zealand's Antarctic waters.
New Zealand air force has reported the whalers were heading for New Zealand's Antarctic waters, where it has search-and-rescue responsibilities but not sovereignty.
Despite a moratorium on whaling, Japan is allowed an annual "scientific" hunt, arguing whaling is a cherished cultural tradition and the hunt is necessary to study whales. Its fleet has killed 7,000 Antarctic minkes over the past 20 years.
(Additional reporting by Naomi Tajitsu in Tokyo; Editing by Bill Tarrant)