Appeals court rejects sonar waiver for Navy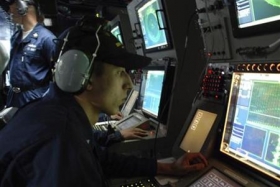 LOS ANGELES (Reuters) - A federal appeals court has rejected White House efforts to exempt the U.S. Navy from laws intended to protect endangered whales and other marine mammals by curbing the use of sonar off the California coast.
A three-judge panel late on Friday upheld a lower court order requiring the Navy to take precautions during the sonar training to minimize harm to marine life.
The Navy has 30 days to file an appeal to the U.S. Supreme Court, during which time it must comply with the bulk of the precautions.
A U.S. District Court in January barred the Navy's use of powerful submarine-hunting mid-frequency active radar within 12 miles of the coast, protecting a strip of water that is habitat for whales, dolphins and other marine mammals.
But U.S. President George W. Bush intervened, citing the national security necessity of Navy training off the California coast, and exempted the Navy from the environmental laws at the heart of the legal challenge.
A federal judge rejected that argument on February 4, and the panel of the 9th U.S. Circuit Court of Appeals upheld that ruling on Friday.
The appeals court "found that the Navy must be environmentally responsible when training with high intensity sonar, and that doing so won't interfere with military readiness," Joel Reynolds, director of the Natural Resources Defense Council's marine mammal protection project, said in a statement on Saturday.
Environmental groups led by the council have documented cases of mass whale stranding and deaths they say are associated with sonar blasts that also sometimes cause bleeding from the eyes and ears.
The council said the latest court opinion is a precedent that will govern ongoing and future litigation between environmental groups and the military in California, Hawaii and elsewhere.
(Reporting by Deena Beasley; Editing by Xavier Briand)