Kellogg earnings beat estimates but stock dips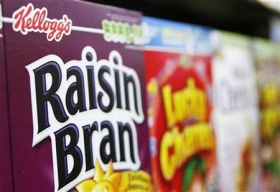 By Brad Dorfman
CHICAGO (Reuters) - Kellogg Co <K.N>, the world's largest breakfast cereal maker, posted higher-than expected profits on Wednesday as price increases helped offset soaring commodity costs.
But the maker of Frosted Flakes and Keebler cookies also stood by its full-year forecast, rather than raising it, and its stock dipped.
The company said it now expects commodity, energy, fuel and benefits costs to rise by an amount equal to about 80 cents per share for the year, versus its prior forecast of 65 cents.
"They did lay out an even more severe outlook for input costs, which prompted them to maintain guidance rather than increase guidance," said Edward Jones food industry analyst Matt Arnold. But he added that Kellogg tends to be conservative with its forecasts.
Kellogg said first-quarter profit was $315 million, or 81 cents a share, compared with $321 million, or 80 cents a share, a year earlier. The company had an average of 12 million fewer shares outstanding during the 2008 quarter.
Analysts, on average, had forecast 76 cents a share, according to Reuters Estimates.
Like most food companies, Kellogg has been hit by soaring costs for wheat and other ingredients and energy.
The company has raised prices and looked for ways to cut costs to try to offset rising commodity costs and more than 80 percent of its commodity costs are hedged this year, Chief Executive David Mackay said in an interview.
Sales rose 10 percent to $3.3 billion, helped by price increases and the weaker dollar, which boosts the dollar value of sales overseas.
Internal sales, which excludes the effects of currency fluctuations and acquisitions, rose 5 percent. North American internal sales rose 5 percent, with a 4 percent increase in retail cereal sales.
Kellogg also said it would increase its quarterly dividend by 10 percent, beginning in the third quarter. For the year, the company stood by its forecast for earnings in a range of $2.92 to $2.97 a share.
Kellogg shares closed down 1.6 percent at $51.17 on the New York Stock Exchange, trailing a 1.6 percent increase for the Standard & Poor's U.S. packaged foods index.
(Editing by Tim Dobbyn)