Indonesia floods kill 12, cause travel chaos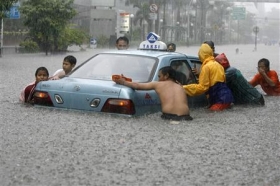 By Mita Valina Liem
JAKARTA (Reuters) - Floods and landslides triggered by heavy rain have killed at least 12 people across Indonesia and the capital's main airport was briefly shut on Friday as more than 40 flights were delayed due to low visibility.
Scores of cars were stranded and people had to wade through murky knee-high water in many parts of Jakarta, a city of 14 million that is regularly hit by floods at this time of year.
Jakarta's main airport had been forced to close on Friday morning, after rain and fog cut visibility to less than 300 meters, Hariyanto, an official at Soekarno-Hatta airport, said.
More than 40 flights had been delayed, with some planes diverted to Jakarta's smaller Halim Perdanakusuma airport, while several flights coming to the capital were forced to return to Singapore.
"The airport has reopened since three o'clock (3:00 a.m. EST)," Hariyanto, who uses only one name, said later by telephone.
Indonesian President Susilo Bambang Yudhoyono was forced to abandon his bullet-proof presidential car after his motorcade tried to pass through knee-high flood waters in the capital.
The president's security escort had to usher Yudhoyono into a sport utility vehicle after his Mercedes Benz got stuck on a main road about 2 km (1.2 miles) from the presidential palace.
By dusk the rain had stopped and waters had subsided in some areas, an official at the city's flood management centre said.
Last year about 50 people died in Jakarta, many due to electrocution, and more than 400,000 people were displaced after days of heavy rain.
After the 2007 floods, the then governor of Jakarta said the city administration needed more help from the central government to deal with the annual hazard.
There were no reports of deaths in Jakarta on Friday after floodwaters rose to 20-50 cm, but a health ministry official said four people were killed and thousands displaced from their homes after heavy rain in parts of Java and Sulawesi islands.
More than 10,000 houses in East Java's Pasuruan region were inundated by floods, forcing people to erect tents on streets, Rustam Pakaya, head of the health ministry's crisis centre, said.
In the Singkil district of Aceh, a province on the tip of Sumatra island, eight people died and one person was missing after a landslide buried two houses, Pakaya said.
During Indonesia's rainy season deadly landslides often occur as tropical downpours can quickly soak hillsides stripped of trees with little vegetation to hold the soil.
A weather agency official said the rain was likely to continue until Saturday.
(Reporting by Fitri Wulandari, Enny Nuraheni and Telly Nathalia; Editing by Ed Davies and Alex Richardson)