Airbus to fly an A380 on synthetic fuel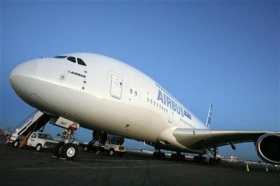 BRISTOL (Reuters) - Airbus is planning to fly an A380, the world's largest airliner, on alternative fuel for the first time, the planemaker said on Friday.
A double-decker aircraft loaded with special fuel derived from natural gas will take off from the Airbus plant at Filton near Bristol in western England at 1400 GMT (9 a.m. EST) and perform a three-hour test flight ending at Airbus headquarters in Toulouse, southwest France, it said.
The A380 entered service with Singapore Airlines late last year after an 18-month delay caused by difficulties in installing the mammoth aircraft's complex wiring.
But Airbus hopes the plane will become the centerpiece of efforts to adapt planes to the next generation of cleaner, alternative fuel at a time when the aviation industry is under pressure over the impact of aircraft emissions on the climate.
(Reporting by Dan Lalor; Editing by David Holmes)