Exxon earnings rise on record oil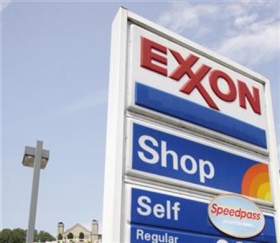 NEW YORK (Reuters) - Exxon Mobil Corp <XOM.N> on Thursday said its first-quarter earnings rose 17 percent on crude oil prices that surged to record levels during the quarter.
Net income at the world's largest publicly traded company rose to $10.89 billion, or $2.03 a share, from $9.28 billion, or $1.62 a share, last year.
Benchmark U.S. oil prices averaged a record close of $98 a barrel during the quarter, up nearly 70 percent from a year earlier.
Profits were tempered somewhat as margins to produce gasoline have plummeted, with refiners struggling to push through higher crude costs to customers. First-quarter gasoline prices rose only 33 percent year over year in the United States -- less than half crude's rise.
Shares of Exxon closed at $93.07 on the New York Stock Exchange on Wednesday. They are down less than 1 percent this year, underperforming the Chicago Board Options Exchange's oil index <.OIX>, which is up more than 2 percent over the same period.
(Reporting by Michael Erman, editing by Mark Porter)