Caviar export quota undermines harvesting ban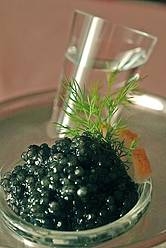 Russia's application for a caviar export quota makes nonsense of a commercial caviar harvesting ban intended to help the recovery of the decimated sturgeon populations of the Caspian Sea basin, WWF Russia has claimed.
"If the Government allows export, de-facto it allows commercial sturgeon fishing," says Alexey Vaisman, Senior Programme Officer for Europe-Russia for Traffic, the world wildlife trade monitoring network which is a joint programme of WWF and the International Union for the Conservation of Nature (IUCN).
Harvesting of Caspian Sea basin sturgeon fish, the source of caviar, was this year restricted to populating breeding farms and for the purposes of scientific research.
However, this year Russia has again declared an export quota to the Convention on International Trade in Endangered Species (CITES).

Vaisman said last year was a good example of the confusion surrounding caviar. The government introduced a ban on domestic retail sales of caviar with obligatory destruction of all confiscated caviar.
"There was also a catch quota of 110 tonnes from which, at most, 12 tonnes of caviar can be extracted. However, the export quota equalled 20 tonnes of caviar," Vaisman said.
WWF has called on the Russian government to withdraw its application for an export quota and put a moratorium on caviar exports for at least 5 years in order to help saving the threatened sturgeon populations.
According to scientific reports, Beluga sturgeon, Starry sturgeon and Russian sturgeon populations now almost entirely consist of fish spawning for the first time. "Legal and illegal caviar harvesting has eliminated virtually all spawning sturgeons," Vaisman said.
Although sale of caviar is completely banned in Russia – including the sale of confiscated caviar and caviar from farms - it is still sold on markets and even in large supermarkets.
WWF-Russia is asking the citizens to stop buying illegal caviar and to call the Department of Economic Crimes when they find such a sale is taking place.
WWF is also advising citizens from other countries not to buy caviar from Russia, Turkmenistan, Iran, Azerbaijan or Kazakhstan as it belongs to the same depleted fish stock.
"If urgent measures are not taken now, sturgeons will become extinct in the region where they are most renowned", said Vaisman.