Bush budget sees bigger deficits as economy slows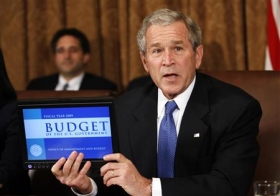 By Caren Bohan and Jeremy Pelofsky
WASHINGTON (Reuters) - U.S. President George W. Bush forecast the U.S. budget deficit would more than double in 2008 and blamed a softer economy as he unveiled a $3.1 trillion spending plan for fiscal 2009 on Monday that would nearly freeze domestic programs.
The White House projections were immediately criticized by both Democratic and Republican lawmakers who said the numbers may gloss over the full extent of the fiscal deterioration and failed to include the full Iraq and Afghanistan war costs.
With the economy teetering on the brink of a recession, Bush said the deficit would reach $410 billion for the budget year 2008 that ends on September 30 and $407 billion for fiscal 2009 that begins on October 1.
The budget makes military spending and the Iraq war its centerpiece, proposing a 7.5 percent increase for the Pentagon to $515 billion.
On top of that Bush also sought another $70 billion for the conflicts in Iraq and Afghanistan but that money is only expected to cover those costs for part of 2009. The administration said it would ask for more Iraq money later.
"The budget protects America and encourages economic growth. Congress needs to pass it," Bush said after meeting with his Cabinet. The grimmer budget outlook will be inherited by the next president, who succeeds Bush in January 2009.
While the near-term deficits are a concern, many budget experts are bracing for much more serious fiscal problems in coming years as the baby boom generation's retirement causes spending on health care and other entitlements to explode.
The blueprint also assumes deep cuts in many popular domestic programs such as highway funds and heating assistance for the poor, in addition to wringing out billions in savings from the Medicare program for the elderly and disabled.
While many -- if not most -- of the priorities of the Bush budget will be jettisoned by the Democratic-led U.S. Congress, the unveiling of the document is sure to trigger a new round of sparring over Bush's fiscal policies and his economic legacy.
Democrats have hammered Bush for presiding over a shift to deficits after taking office amid budget surpluses, pointing to a jump in the national debt to $9 trillion from about $5.6 trillion when Bush took office in January 2001.
"Far from proposing a plan to fix the budget, the Bush administration proposes policies that worsen it, and with little compunction, leaves the consequences for the next administration and future generations," said House Budget Committee Chairman John Spratt, a South Carolina Democrat.
While some Republican legislators welcomed the budget, New Hampshire Sen. Judd Gregg, the senior Republican on the Senate Budget Committee, was scathing, saying it lacked credibility.
"This budget must have been viewed by them more as an academic exercise than a serious exercise because it's not a serious budget," Gregg told Reuters in an interview. "There are even more games than usual."
IRAQ WAR ADDS TO RED INK
Bush forecast deficits of over $400 billion in the next two years. That would be more than twice the size of the $162 billion gap of 2007 and approach the $413 billion all-time high for the deficit hit in 2004.
The bigger deficits, caused in part by weakening revenues amid a slower economy, would reverse a trend of the past three years in which annual deficits declined.
A promised $150 billion stimulus package of tax rebates meant to jolt the economy away from recession will also add to the deficit. Funding for the Iraq war is another source of red ink.
Bush said despite the worsening near-term deficit, it would still be possible to balance the budget by 2012 while making permanent tax cuts he made in 2001 and 2003.
But lawmakers gave numerous reasons why they thought his budget masked the true fiscal woes.
They noted it only includes a portion of the expected funding for the Iraq and Afghanistan wars in 2009 and the economic forecasts underlying the figures are above those of private-sector economists.
White House budget director Jim Nussle said he expected to provide lawmakers with details about how much more money would be needed for the war after the top U.S. commander of forces in Iraq, Gen. David Petraeus, gives a status report in March.
"We will send that up to Congress shortly after that," Nussle said.
Another area in which Bush sought more spending was combating illegal immigration, a popular Republican cause. He sought 17 percent more for customs and immigration enforcement, including funds for a border fence and more border patrol agents.
(Additional reporting by Matt Spetalnick, Tabassum Zakaria and Richard Cowan; editing by Vicki Allen)