The Lawn Mower of My Dreams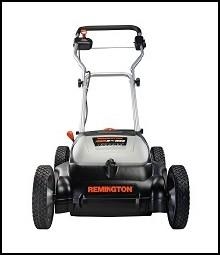 I'm in love. With a lawn mower. I've never seen her in person, as it were. I've never taken her for a stroll around my yard. I've only seen her in pictures and I've reviewed her, ah, "specifications." That's enough. I know she's perfect for me.
The lawn mower in question is Remington Power Tools new cordless PowerMower (tm). It has all the features necessary, for most of us, to replace our dirty and heavily-polluting gasoline-powered mower.
On full charge it will run, according to the company, for about an hour - which should be plenty long enough for most small lawns. And, if that's not enough run time, the battery is swappable. Buy a second battery and the mower will run for two hours. Buy three, well, you get the picture.
Further, if you get really stuck, the PowerMower can be plugged into the grid, plugged into your house just like a common corded electric mower (like the old Black and Decker model that I now drive) The grid-connect option also gives the mower more power if your lawn has got out of control. Remington says it's the first and only cordless lawn mower with a corded option.
The battery is a 60 volt. The blade, however, is only 17 inches long – pretty small – which means more walking around your yard, more swaths to cut. Then again, so what. Americans need more exercise anyway.
The switch to an electric or battery-powered lawn mower can make an immediate difference on the environment. From the first time you use it you'll find mowing a fairly quiet experience. That's good for your and everyone's ears. And, when you stop to pick up a wayward tree branch or something it stops too. Again, quiet and safe. Most importantly, your lungs, and the rest of ours, wont' be drawing in toxic exhaust fumes anymore. Remember, gas powered lawn mowers, as well as all gas-powered lawn and garden equipment, have no pollution controls whatsoever.
According to the US Environmental Protection Agency (EPA), a traditional gas-powered lawn mower produces as much air pollution as 43 new cars each being driven 12,000 miles -- 516,000 miles worth of vehicle emissions, which contribute to air pollution and climate change.
Lawn mower pollution is a big deal. Governments would like to see gas powered ones go away. California levies a $30 surcharge for purchasing one. Other states or communities have turn-in programs. Remington, through its website, will help you find one of those.
The company seems to be finding a niche for itself in selling zero emission lawn and garden equipment in offering a whole line of plug-in electric and battery powered tools including hedge clippers, chain saws and edgers.
If there's a complaint about my new love, she'd be a little tough on my wallet with a retail list of $450. But then again if that nearly-promissed rebate check comes from the Feds by the time the grass begins to grow I'd consider pursuing her.
Links:
Remington
http://www.remingtonpowertools.com